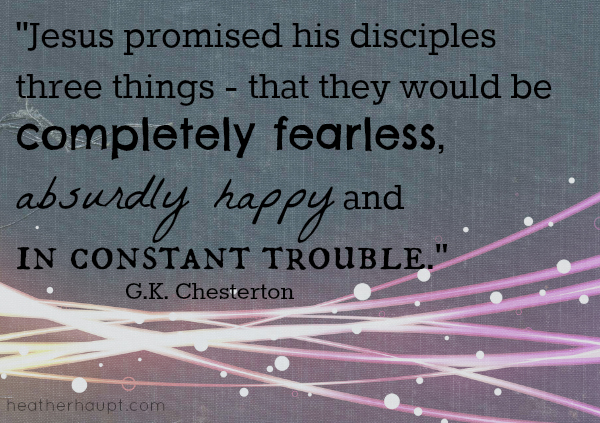 Completely fearless, absurdly happy and in constant trouble.  Sounds like a recipe for adventure to me, doesn't it?  It always does in the theoretical sense although when you are walking through a season of 'trouble' it certainly may not feel like that…  Nevertheless, it is this kind of adventure that I want my boys to understand when it comes to walking with Christ.
When we walk out our lives moment-by-moment relying on the Holy Spirit there is peace, peace that makes us completely fearless and even absurdly happy in the face of constant trouble.
In light of the books I recommended last week, my mind couldn't help but drift to THE Book.  You know, the ultimate adventure Book, aka the Bible.  Have any of you read the book of Acts to your children?  Talk about adventure!  We love to dive into the Message paraphrase or bringing up the Faith Comes by Hearing site and letting them fall asleep to the Word – the action-packed, living-on-the-edge Word that relays not only God reaching down to us, but also our call to join Him in kingdom work…  Have you heard of Faith Comes by Hearing?  I believe I found out about them from Ann Voskamp several years ago.  It is such a neat ministry and they now have audio Bible translations available in over 700 languages.  Not only do we listen to the dramatized readings in the ESV (or a couple of other English translations), but sometimes we'll play around and listen to it in another language.  It is exciting to think that people the world over are being transformed by the Word too.  You can test it out here!
Constant trouble can be a constant drain unless we are bathed in the Word.  When I lose sight of the 'adventure' it is usually because I am not reading my Bible.  I tend to focus more on circumstances instead of the One who holds me in the palm of His hand.  One of the best gifts we can give our children is the habit of turning our attention to the One who not only called us into this adventure, but also equips us for victory.
Oh what a privilege we have to show our kids what this walk of faith, this adventure can be like.   Let's go into the rest of this week expectant – knowing that God gives us freedom from fear, profound reasons to be happy and yes, constant trouble.  Praying for you all!
As I think of this walking by faith and walking through trial, I can't help but think about my friend Amanda.  Some of you may remember when I asked you to pray for her last year.  A year ago last week, this friend of mine, then 29 and 14 weeks pregnant with her 5th child suffered a massive stroke.  Talk about a trial…  Miraculously surviving the first few days and weeks was only the beginning.  I wrote of weathering storms and witnessing the strength of generational faith as we continued to have our families co-op last summer. God has sustained her and brought her so far and her son was born in November – beautiful and perfect.  But it doesn't mean it has been easy.   This family has had to walk by faith on so many levels.   It's been a while since I updated all of you and wanted to share this inspiring post her mother recently wrote about their last year…  Please continue to pray for her – for full healing and so she can resume full care of her family and the adventure of homeschooling that she loves so much.
Coming up next: Our Family Birthday Celebration – or how we made our anniversary a family celebration too!