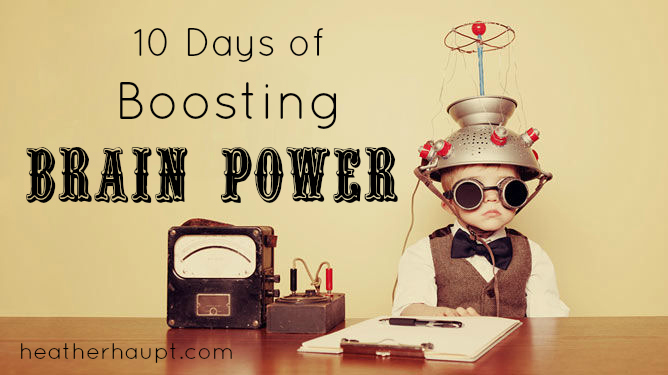 Isn't that picture hilarious? I'm super excited to share with you over the next 10 days (M-F) tips and tricks to boosting brain power. And I have to warn you now, that it will actually look nothing remotely like what is pictured above!
But often times we think we need to do something 'serious' like this or cram more 'book learnin' into their heads to produce little genius'. I'm here to tell you that nothing could be further from the truth.
Or you could be pulling out your hair as you watch your bright son or daughter just sit staring vacantly with that 'lights on, but no one is at home' look when you know they are capable of understanding and mastering the material.
There are some important tips and tricks that you can easily incorporate into everyday learning to maximize your children's learning potential. Over the next two weeks I'll share some of these key tips to help turn your child ON to learning and help that learning STICK!
My fascination with how the brain works – specifically relating to learning, started about 12 years ago.  But I benefitted from internalizing many of the tricks I'll be sharing with you long before I had any research to back it up. I was an active girl and my own mother had to get creative when it came to helping me learn. Those skills I learned as a girl carried me through highschool and college. I didn't get nearly all A's while pursuing my biology degree because I'm some genius, but because my parents instilled in me a strong work ethic and gave me a host of tools to help even someone as active and distractible as me succeed.
Let's start with FEEDING the Brain:
The brain is made up of neurons that fire and pass along messages. This 'thinking' is a costly activity and requires a lot of energy.  If we want to preserve peak mental function, nourishing this very important organ is of utmost importance.
You can have an amazing lesson plan, with wonderful hands-on activities, engaging books, but if the brain hasn't been properly nourished, all of your planning will go by the wayside.
So HOW Can We Give a Nutrition BOOST to the Brain?
WATER ~ One of the easiest ways to boost brain function is to ensure adequate water intake. The brain is made up of 85% water. Water is essential to help neural messages transmit. It aids in the delivery of nutrients and the removal of waste. Because the brain has no way to store water, mental symptoms of dehydration are some of the first to crop up. Have you ever noticed any of these in your children?
| | |
| --- | --- |
| Brain Fog | Afternoon Fatigue |
| Lack of Focus | Headaches |
| Emotional Outbursts | Exhaustion |
| Impaired Short-Term Memory Loss | Recall of Long-Term Memory |
I've recognized many of these in myself and also with my children. It is amazing how quickly those symptoms can abate when water intake is increased!
If you want to think faster, be more focused or experience greater clarity and creativity, be sure your brain is functioning on a full reserve of water!
It works, I promise! In fact, I was just reading about a study that came out last year that showed an increase in test scores among groups of college students that sipped water throughout the testing period. I found it interesting how the article pointed out several reasons for this in addition to the physical need for hydration.
Want to Boost Brain Power?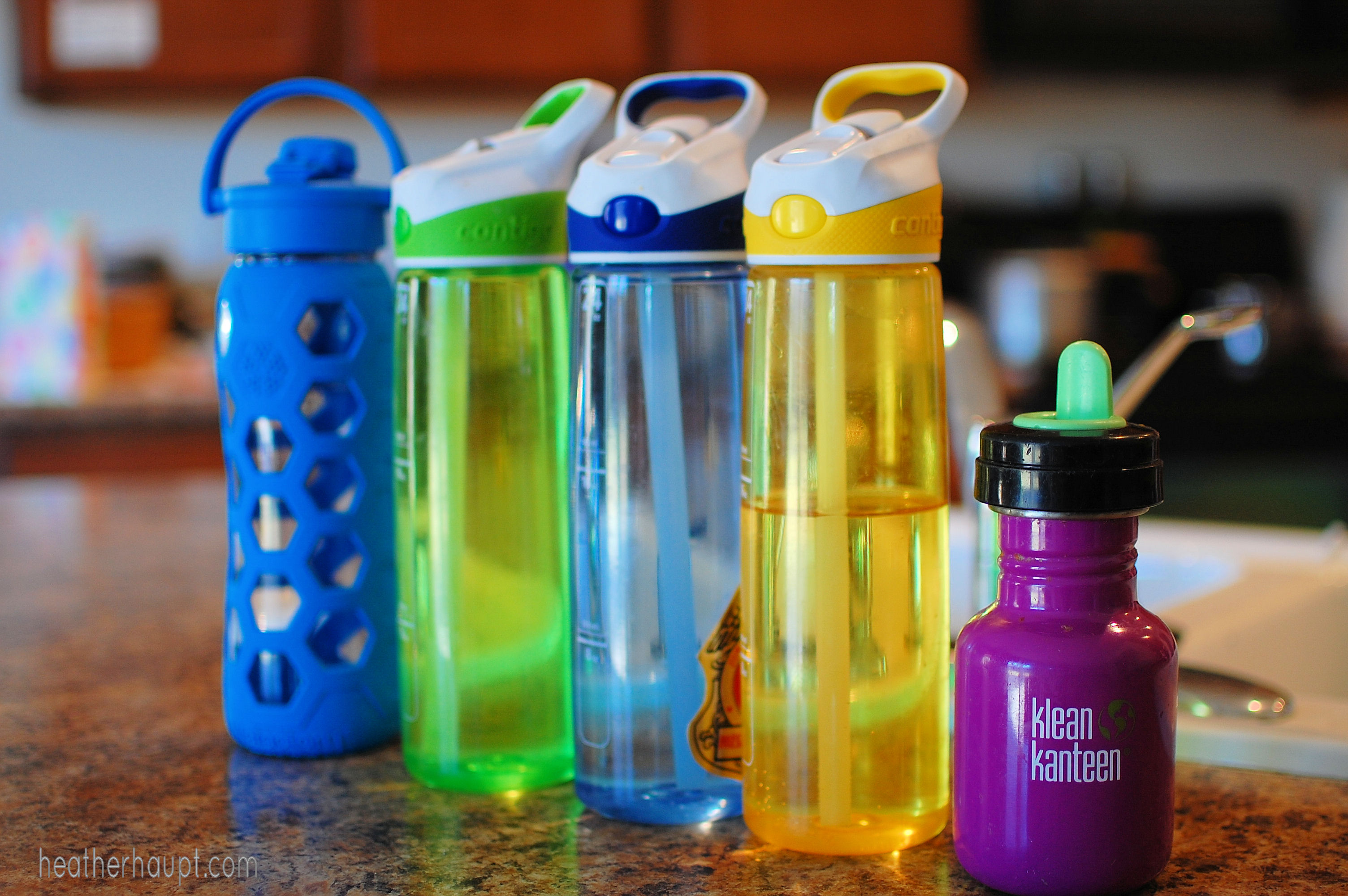 Make sure your kids drink a lot of water at the start of the day! I recommend a full glass first thing in the morning. In our family, we keep color-coded water bottles (Klean Kanteens and Contiga for them, Life Factory 22oz glass for me). They hold 24 oz of water. Our goal is to be 50% done by lunch and finished by dinner time at a miminum.  I shoot for drinking between 60-90 oz/day.  This works for us so that we have a visual of how much more water we need to drink each day.  If there is a lot of physical exertion you'll need to increase this amount however.  Urine output should be nearly clear in someone who is well hydrated.
Food Matters
The foods we eat can also be very important for brain function. We need to be eating healthy fats, good lean protein and lots of fruits and veggies.  This aids in the proper formation of brain cells, upkeep, protection from free radicals and providing a source of energy.  Bad fats (trans fats and saturated fats), preservatives, and simple carbohydrates, replace good building blocks in the brain and elsewhere and can also result in a yo-yo effect of fuel delivery.
A sugary breakfast in the morning leads to a rapid rise in blood sugar, but then a subsequent crash. Without glucose in the blood, your brain will have nothing to feed on. The brain needs a steady supply of fuel in order to function well.  Eating complex carbohydrates that will lead to a slow release in the blood stream will help prevent this mid-morning crash.
So there are my first tips. Keep HYDRATED and feed your kids nutritious meals. It makes a difference!
How do you encourage your kids to drink enough water or encourage nutritious eating habits? 
Related Post:
10 Tips for Helping Your Picky Eater
10 Days of Boosting Brainpower Series
Day 1: Boosting Brain Power Starts with Food and Water
Day 2: How Sleep Makes Us Smarter
Day 3: Exercise Boosts Brain Power
Day 5: Active Play Boosts Brain Power
Day 6: How to Waste Brain Boosting Opportunity
Day 7: Brain Breaks: An Important Tool in Your Homeschool
Day 8: The Role Music Plays in Boosting Brain Power
Day 9: Engaging the Senses Boosts Brain Power
Day 10: How to Turn Passive Learning into Active Learning
 Be sure to check out what some of the other homeschool related topics being addressed during this 10 day Homeschool Hopscotch!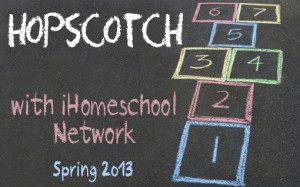 affiliate links included. see disclosure.