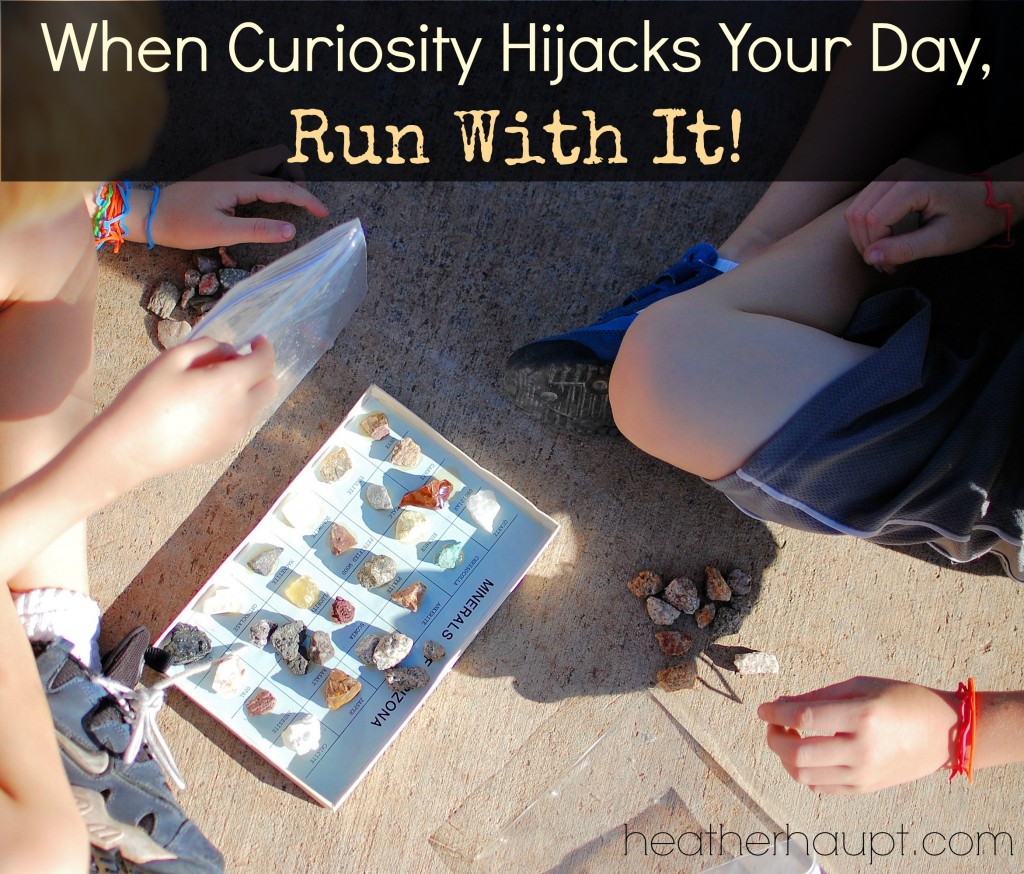 When curiosity hijacks your day…  run with it!
It was a day much like any other.   We sat around the breakfast table, eating and talking.  I was excited about the day before us.  We'd slipped into a beautiful, smooth-going routine.  And then it happened…
An innocent comment about rocks.  Turns out my little turkeys had raided my stack of rock books that I had stashed away for our upcoming vacation.  I don't normally take "school" with us on vacation, but when a friend up in Payson mentioned that this was a great place to learn about rocks, I couldn't resist!
The boys began rifling questions my direction.
What are rocks made from? What is a rock hound?  There are volcanic rocks down the street.  Does that mean a volcano was here? Do you think we can go out front and dig for gold? No?  Well, what about rock collecting.  Please, mommy. Please.
And just like that I realized that I could be a slave to my routine – that glorious, smooth-going routine, or I could feed their curiosity and run with it.
Oh the beauty of homeschooling is that we can strike when the iron is hot.  When there is interest in a subject, a wise mama can rearrange the schedule and make room for spontaneous learning.  When curiosity is lit, it is amazing what they will learn.
So we went rock hunting.  We compared our neighborhood discoveries to that same trusty little rock identification kit that I had used as a girl.  We read about rocks and marveled at God's creativity!  And now in hindsight, it was excellent preparation for our time up at the cabin; far better than my original plan.
The math, spelling and phonics happened on a smaller scale that day.  But memories were made and minds engaged in a magical way that I could never orchestrate on my own.  Learning like this, integrated naturally into a day, helps lay the foundation for a life-long pursuit of discovery!
Don't be afraid to ditch the schedule when curiosity comes knocking!  It will be there waiting for you.