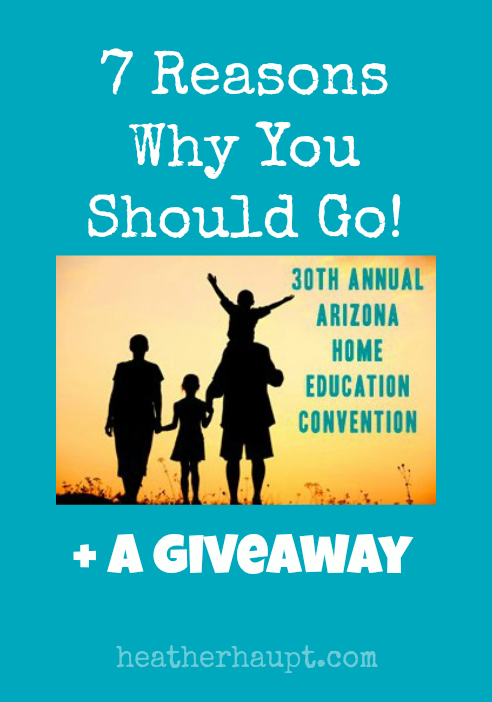 Ohhhhhhh, I just love going to homeschool conventions.  I've been to at least 30 of them in my life-time and I haven't tired of them yet!  There is something about the energy in the air when you gather thousands of homeschool families together.  There are workshops to attend, old friends to see, new friends to make, and books, books, books to peruse!  I love it and wish every homeschool parent could have the chance to attend.
And today, I have the opportunity to tell you all why you should go.  Plus I get to give one of you friends a free admission!  Read on…
7 Reasons to Attend a Homeschool Convention
1. Encouragement – As most of you know, homeschooling is profoundly rewarding, but it is also a LOT of work.  While it isn't the cultural anomaly that it was 20 years ago, you are still walking a different path than most people. Homeschool conventions are a wonderful place to find encouragement via the workshops, helpful vendors and fellow attendees.
2. Renewed Vision – For newbies, a homeschool convention can be a place where they may 'find' their vision.  For veterans, it is a place to get their vision renewed.  I always find myself excited and eagerly anticipating another year after each and every homeschool convention.  Of course I experience this now, as a homeschool parent, but I also found this to be true when I was the homeschool student going to the teen track or wandering the vendor hall.
3. Practical Help – Even if you were a teacher in your previous life, you haven't taught every subject at every age.  As a homeschool mom you get to tackle this awesome feat.   Homeschooling at its best is not merely replicating school at home, but instead creating a home where you learn.  There is an art to that and hearing how others have done it is so helpful. There are both general and vendor workshops that will help equip you to tackle all of these challenges.
4. Camaraderie – There is something so powerful about being surrounded by thousands of other parents walking this same path.  And there is something so wonderful about getting instant feedback and having one-on-one conversations with fellow parents, vendors and speakers.  Everyone is in a chatty mood and more than willing to share their tips, tricks or their triumphs and trials.
5. A Hands-on Look at Curriculum  – I love the internet and yet there is nothing quite like getting my hands on curriculum and getting to preview it in person.  As a believer, I also love to browse the vendors that bring miscellaneous books.  You won't find many books written from a Christian perspective at your local library, so it is nice to be able to browse and pick some up at the convention.  I've bought a few duds that looked good online, but ended up being poorly written or didn't quite match what I was looking for.  The benefit of seeing them in person is that you cut down on these 'bad buys'.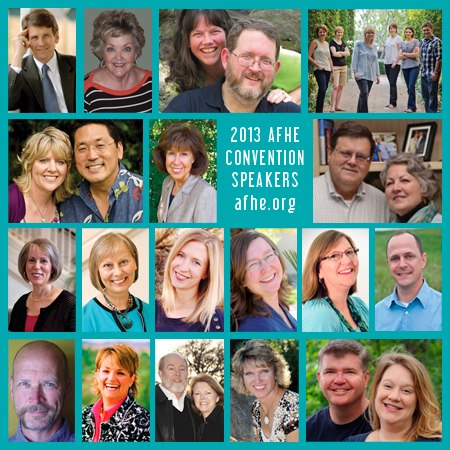 6. Great Speakers – AFHE always does a great job at bringing in top-notch speakers.  This year's line-up is going to be so much fun.   Michael Farris from HSLDA, Jessica Hulcy, the always popular Hal and Melanie Young, Diane Craft… Do you recognize someone in that picture collage?  That's right, I'm speaking again too!!  I'll be giving two workshops this year: Nature Walks: Science Made Simple and 10 Ways to Make the Most of the Preschool Years.  Here is a link to all of this years speakers!
7. Help Preserve your Right to Keep Homeschooling – Say what, you ask?  Yes, going to a conference hosted by your state organization helps provide them the resources to be your eyes and ears at the state capitol – watching for dangerous bills and working hard to protect our homeschool freedoms.  It wasn't all that long ago that there were huge restrictions on homeschooling.  In fact, it was only 22 years since the last parent was arrested here in Arizona solely for homeschooling their children.  Protecting our freedom to homeschool means that someone must always be watching legislation.  Days are spent down at the capitol, listening to hearings and testifying.  I remember as a kid packing up our books and heading down to the Capitol for the day and the next, and the next.  So the money made from the AFHE Homeschool Convention goes right back to work for Arizona families!
 The Giveaway Details!
Eeeek.  I'm so excited for this giveaway.  The price includes admission for one individual or married couple plus a one-year AFHE membership.  That's a $85 value.
Arizona Homeschool Convention and Curriculum Fair
June 14th-15th, Phoenix, AZ
– You will enter by following the directions on the rafflecopter box below.  Leaving a comment will unlock other opportunities to earn extra entries.
– The winner will be randomly selected by rafflecopter.  The giveaway ends on March 20th, 2013.
– Contest participants must be 18 years old or older.
– The prize includes admission for one individual or married couple plus one-year AFHE membership.
– Does not include admission for children or teens, teen program fee, Friday Night Family Entertainment (with Bebo Norman) admission, parking, food, lodging, travel expenses, etc.
– The prize is valid only for the 30th Annual Arizona Home Education Convention June 14-15, 2013 and cannot be redeemed for a future year's convention.
– If the winner is a current AFHE member, the membership will be extended one year from the current expiration date.
– The winner will be contacted with a coupon code for their free admission.  You must register for the convention by the May 13 early registration deadline. Registration instructions will be provided.
Oh and keep in mind that you can save $20 off of registration if you pre-register before May 13th.   You can also check out the AFHE Facebook page for a 'Pin It to Win It' opportunity to win a convention pass!
a Rafflecopter giveaway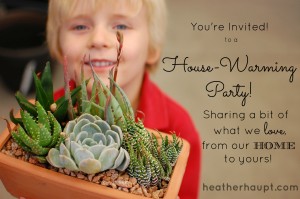 This giveaway is part of my 'house-warming' party! We'll have a few giveaways posted each week in March as I share about things my family loves! Welcome to my new website! Check out the opportunity to win
Hidden Art/For the Children's Sake bundle (through 3/15)
$250 Amazon Gift Card – Name that Homeschool Blogger (through 3/15)
Educating the Whole-Hearted Child (through 3/20)
Playsilk Giveaway: Unleashing the Imagination (through 3/22)