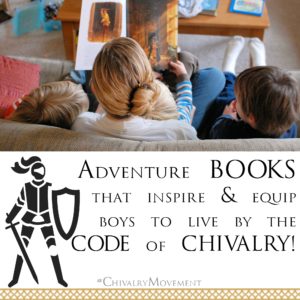 Knight training begins by captivating the imagination, by drawing our children into the magic and wonder of this bygone medieval era. In the appendix at the back of Knights in Training, I list out my absolute favorite books for this knight training journey.
I'm sharing them here to give you a sneak peek and as a reference for those who listen to the audiobook version and want to find the resources mentioned in the back of the book! I've put an * next to books I've since added to my recommendation list since the book went to print.
Book are powerful. They draw us in with the magic of their narrative and speak to the secret desires of our heart. They empower us to never give up, but step up into the situations that we encounter in our own lives. So here's to embracing the power of narrative in our children's lives!
Book Recommendations: Adventure, Chivalry, and Character Books
IF YOU CAN GET ONLY FOUR
OTHER GREAT MEDIEVAL, KNIGHT, AND CHIVALRY BOOKS
Picture Books
Chapter Books
Audio Dramas
Movies
Books to Inspire Further Exploration of the Code of Chivalry
Book are so powerful in shaping who we become and the attitudes we take into our lives. Here are some books suggestions that correspond with each aspect of the code to enable you to have further conversations with your children!
1. Love the Lord Your God with All Your Heart, Soul, Mind and Strength
2. Obey Those in Authority over You
3. Stand against Injustice and Evil
4. Defend the Weak and Protect Them
5. Respect the Honor of Women
6. Refrain from Wanton Giving of Offense
Movies:
7. Speak the Truth at All Times
8. Be Generous and Willing to Share
9. Persevere and Finish the Task at Hand
10. Pursue Excellence in All You Do
RESOURCES CITED IN THE BOOK
On Parenting
On Understanding Boys and Men