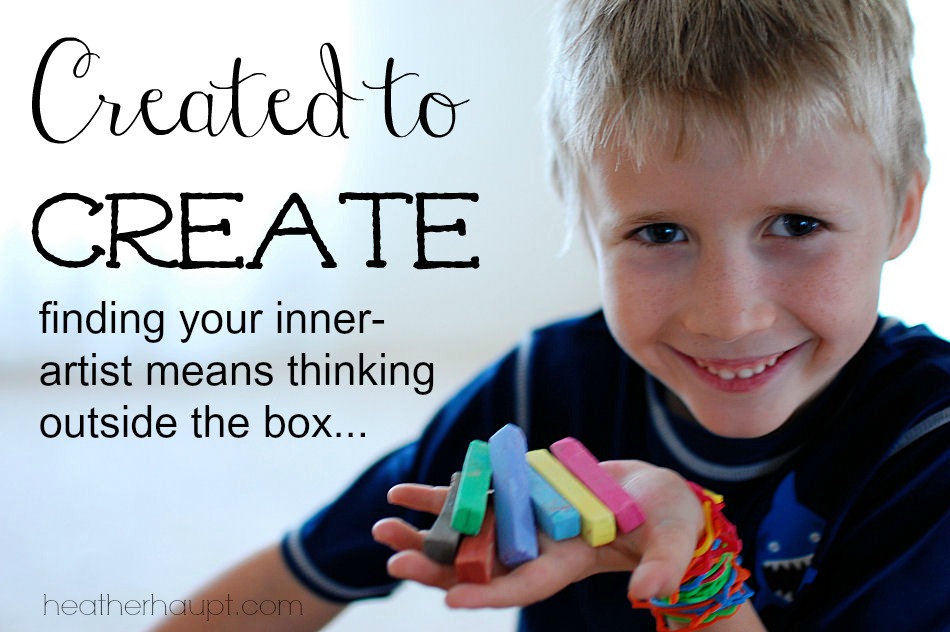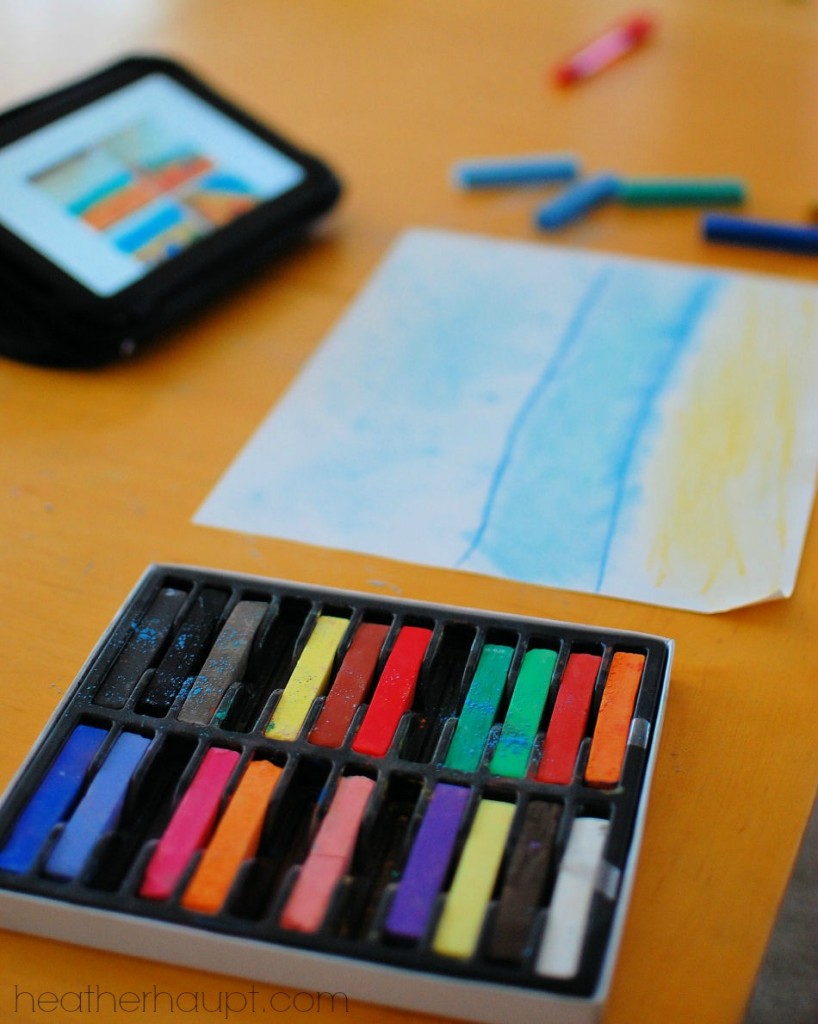 We settled down around the kitchen table and pulled out the pastels.  There is something so cathartic, so peaceful about the process of creating.  After we read through the tutorial in our Simple Start to Chalk Pastel's book, we set to work.  Well, all of us except for one.  This son of mine starts to complain.  There aren't enough directions. What EXACTLY is he to do?  I try and give a few more instructions, but remind him of the value in the creative process and how everyone's picture would turn out differently.   He didn't believe me.
In frustration, he huffed – "I'm not an artist.  I'm just not."
At that moment, I was at a loss on how to respond.  I excused him from the table and he grabbed the kindle to go reread the directions while the rest of us finished our pastel drawings.
I forgot about his struggle until I was chopping broccoli for dinner an hour later.  By this time, he had cranked up some kids praise music and was singing at the top of his lungs–lost in worship.  This son of mine loves Jesus and loves to sing.  As I watched, I saw a different boy from the one attempting pastel drawing earlier.  He was relaxed and enjoying himself immensely as he worked out motions to the song. He broke my reverie by announcing that he wants to be on the worship team at church.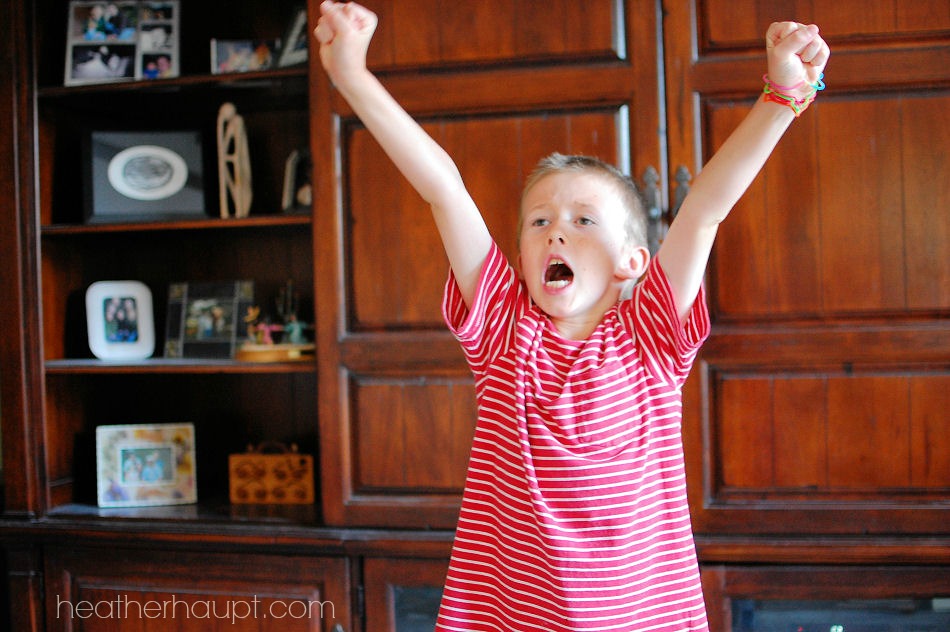 And that's when it hit me – He IS an artist.
I excitedly wave him over and look deep into his inquiring eyes as I carefully lay out my revelation.  What is an artist?  It is someone who creates something.  It could be music, dance, art, building, etc.
"YOU are an artist Xander, because you are created in the image of our Creator God."
Eyes widen.
I tell him that when we create, we are reflecting our Creator God to those around us.  It is not only immensely satisfying; it is an act of worship.  When you sing, worship, and seek to draw others into it through your creative expression, you are an artist.
His two dimples deepen as a smile slowly spreads across his face.  He is an artist.  He relishes in this revelation.
He pauses and looks at me before dropping another bombshell.  "You are an artist too, Mom.  You are an artist when you write."
I cringe inside and doubts immediately whisper otherwise to my soul.  I'm working on a book and yet still askew the idea of being a writer, of that being my art form.  I'm quick to point out others far more gifted, talented or successful than I am.  I look back to my childhood of hating writing and the many battles I had with my mother over this subject.  But he is right.  There is a passion that runs deep to communicate.  While I may not love the actual act of writing, I love to communicate.  There is pleasure in crafting words–whether spoken or written.  There is pleasure because I was created to create.   There is pleasure because this is how He is calling me to create right now.
Maybe we just need to learn to think outside the box.  Maybe we need to let go of our perfectionist tendencies and embrace this imperfect reflecting of our Creator…
So how do
you

create?

Do you make music with an instrument, use your voice, paint or draw?

You are an artist.

Do you enjoy taking care of the yard, decorating or organizing  your home?

You are an artist.

Do you get excited about baking yummy treats or putting a healthy dinner on the table?

You are an artist.

Do you take care in snapping pictures and capturing the essence of childhood or the passing of days in your home-even if no one but family sees them?

You are an artist.

Do you sew, knit, work with wood or creating any other kind of things?

You are an artist.

Do you delight in finding good books for your kids and creating special moments with them?

You are an artist.

Do you dream up ways to make others laugh, seek to encourage others with your words or with your writing?

You are an artist.

You don't have to be the best or even recognized by others for any of these talents.  Art is still art, even if it is hidden – even if it seems insignificant.  You are a beautiful {albeit imperfect} reflection of your creator God.

Today I choose to embrace the artist inside of me.  Today, I seek to recognize and point out the artist inside each of my children.  Today, I marvel at the ultimate creator and am thankful for the taste he gives us of this most amazing privilege–to create.

 And my son… with this boost of confidence, he tells me that he'll give the pastel's another try.

Related Posts:

A review of my favorite book on Hidden Art

Harnessing the Power of Pinterest to Grow Creativity in our Children

 April 13-15th, 2015 ONLY