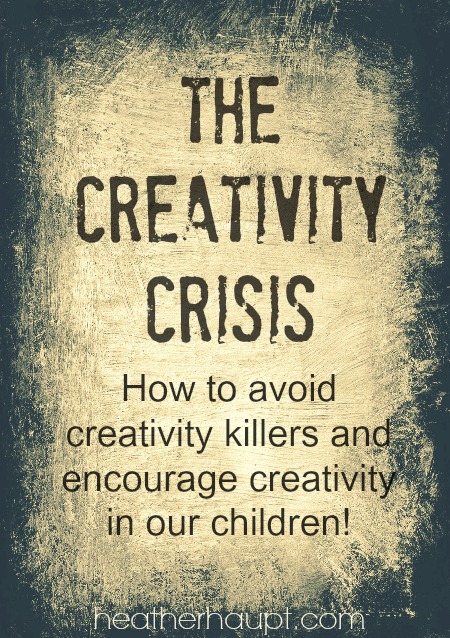 An interesting article came out last week in Newsweek magazine titled, The Creativity Crisis.  It talks about how research is showing a very significant decrease in creativity in Americans – most notably those in K-6th grade.
As I gear up for our workshop on cultivating curiosity this weekend, I'm struck by the interplay between curiosity and creativity. Curiosity – that inquisitiveness that wants to learn about everything, ask why and figure things out is such an important component in creativity.
I just love how the article defined creativity because it helped me see how multi-dimensional creativity really is:
"To be creative requires divergent thinking (generating many unique ideas) and then convergent thinking (combining those ideas into the best result)."
This skill is desperately important in a world that needs creative solutions to so many complex problems. It is a skill well worth developing. In fact, the article mentioned that a recent IBM poll of 1,500 CEO's identified creativity as the #1 "leadership competency" of the future.
So if the most notable drop is in the early years, than is there anything we can to do nurture this creativity in our children?
The answer to that is YES and it is being done many places all over the world. What I found particularly interesting was how it talked about the improvements China is making in their system of education. "There has been widespread education reform to extinguish the drill-and-kill teaching style" over there and instead adopt a problem-based learning approach. The sad thing is that the trends in American education are just the opposite and not just in the elementary grades.  It is happening earlier and earlier. When told of American priorities the Chinese just started laughing and said, "You're racing toward our old model. But we're racing toward your model, as fast as we can."
I love how the article also lays out what it looks like for each general age-range to pursue creative development.
And surprise, surprise one of the most effective ways to encourage and foster creativity is thru imaginative PLAY! Role-playing is a great way to develop creative solutions to problems and provides a 'safe' realm for the child to do this.
Imagine that, stepping back and giving your young child time to explore and play while limiting creativity killers like TV, movies and video games can be so effective in accomplishing these goals of fostering creativity.  It is just mind boggling to think that it can be that simple.
As parents we need to pursue opportunities for our children to do just that – play, think critically and engage in the world around them instead of relying on a faulty system that my mom refers to as a 'pete and repeat' form of education. If your children are in school, you can call for reform and a return to schooling that encourages creative thinking. The article had many examples. And if you are homeschooling your children, or have young pre-formal school aged children, you have the opportunity and flexibility to think outside of the typical 'school' box. We can ditch the printables, flashcards and fill-in-the blank style of education and pursue something that will light our children's curiosity and propel them towards devising creative solutions to real problems!
Yes, this article is well worth the read.  I'm still mulling it over and trying to think practically what this means to me as a parent and teacher.  I'd love to hear what stood out to you from the article.