As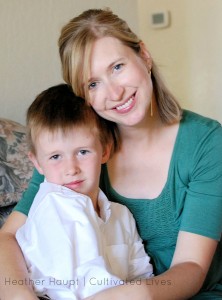 mothers, we have the privilege of cultivating the culture of our home.  It is no small, mundane task.  Our role is not simply to feed and clothe the children or to cook and clean.  We have the opportunity to set the tone in our homes, the atmosphere in which everyone lives, learns and loves one another.  We have the opportunity to reflect the Creator God in creating a home that fosters delight in discovery and where the spiritual, the intellectual and the emotional are all interwoven together into the fabric of a rich, integrated life.
We can create a home where curiosity is fostered, where creativity is stoked, where communing with God and with each other weave seamlessly together.  We can create a safe haven where kids can be kids – sheltered from the brute forces of a fallen world until they have roots and are strong enough to weather whatever life throws their way.  We can create an atmosphere of loving interaction that will prepare our children to interact with others in a way that winsomely draws people to Jesus because they see something different.  We can create a home where grace is lived and it is safe to make mistakes. We can help our children see how our beliefs and relationship with God intersect with every single area of our lives.  Jesus called us to live radical lives.  But radical really is just walking a spirit-led life in the ordinary everyday.  This is what makes life extraordinary.
The home is a powerful place and as curator, your calling is a lofty one.   For we are cultivating the very culture that will shape who they become…
Words I've shared on this topic:
The Hand that Rocks the Cradle
Of Raising Daniels and Fresh Resolve
Inspiration from others relating to this cultivating of culture:
Books that Inspire and Equip
Hidden Art of Homemaking: Creative Ideas for Enriching Everyday LifeIn this book, Edith Schaefer talks about how, as believers, we are called to be creative and artistic in our everyday endeavors as a reflection of the perfect Creator God whom we worship. She weaves a beautiful picture of how this affects the culture of your home and family life.
For the Children's Sake: Foundations of Education for Home and School  This is one of those 'wow' books that really helped solidify my vision for a holistic approach to education and life in general! I reviewed it here.
"We allow no separation to grow up between the 'intellectual' and 'spiritual' life of children, but teach them that the Divine Spirit has constant access to their spirits, and is their Continual Helper in all the interests, duties and joys of life." ~ Charlotte Mason