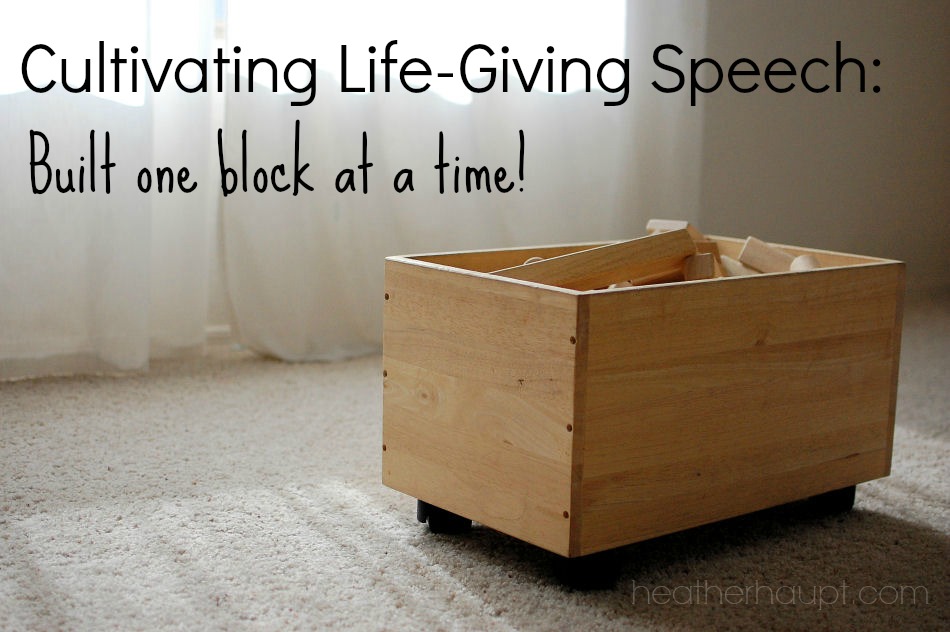 This post may contain affiliate links.
Oh the tongue is such a tiny part of our body and yet it wields such great power.  With it we can build each other up or tear one another down.
"The tongue has the power of life and death."  Proverbs 18:21
Over in these parts, I've noticed that we've become a little lax with our tongues.  There has been more bickering, whining and complaining than I'd like to admit.  So when my friend Carlie asked if I wanted an advance peek at her new book that she wrote with her husband, I jumped at the chance.
It can be so easy to speak as the culture speaks.  But it is rarely uplifting.  And if it isn't negative, its oftentimes full of empty praise and promises.  And yet, God's Spirit inside of us makes it possible to pursue a different mode of communication with others.   We are excited to embark on this 9 week family devotional that will take us through the Fruit of the Spirit.
Learning to Speak Life: The Fruit of the Spirit – A Review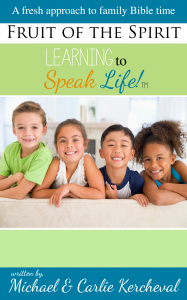 Here's what I like about it:
It is laid out well and yet also easy to adapt to each family circumstances.
It draws us into Scripture.  It has age appropriate suggestions for the over 7 and the 6 and under crowd that include copywork and memorization. There is also a great "Digging Deeper" section!  Nothing changes us quite like the Holy Spirit bringing conviction as we dig deep into the Word!
Faith Confessions – Part of speaking life is speaking truth – God's promises – into our lives.  It is so inspiring to focus on what God CAN do in and through us instead of focusing on self and our shortcomings.
Imagination/Movement component.  Children learn so much through dramatization and movement.  There is a skit for each chapter that allows the children to role play inspiration for showing that Fruit of the Spirit in Action!
Another short story that brings home the point.
Silly Sayings: fun tongue twisters that also emphasize the point!
Great family discussion questions.
A family project – another HANDS-ON component that helps us live out this fruit in our lives.
In preparation for starting this devotional and well, because today was such a rough day in the bickering department, we sat down to talk about how our words can be used to build each other up or tear them down.  The wonderful thing about reading blogs is finding great ideas to tuck away for later…  My friend, Sarah, had blogged about a fun activity she had done with her boys.  Inspired by that we sat down to build tall block tower.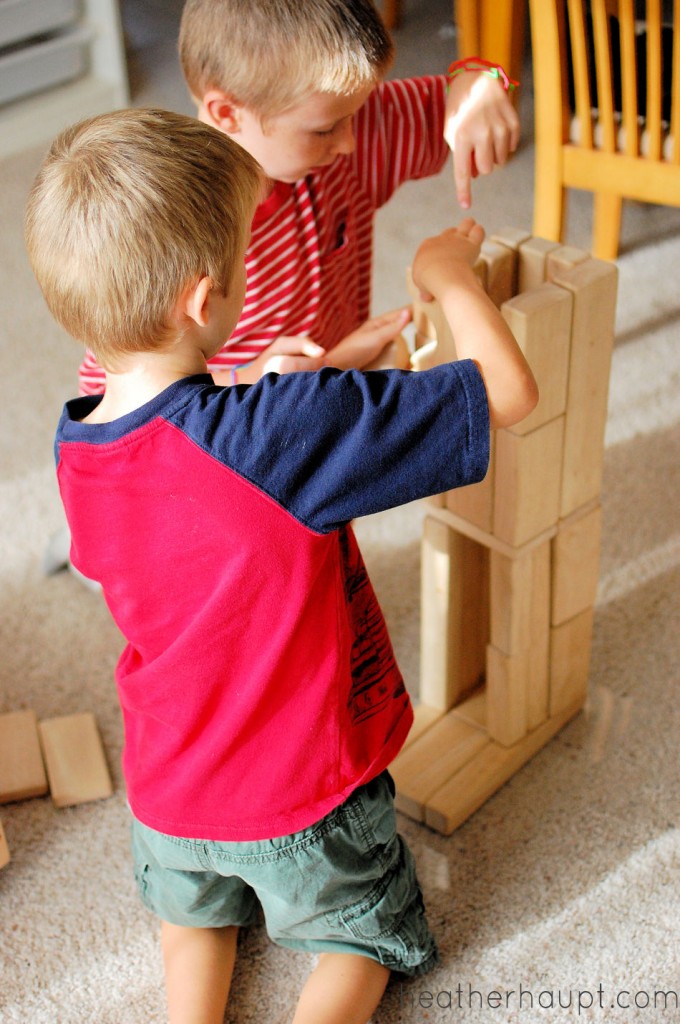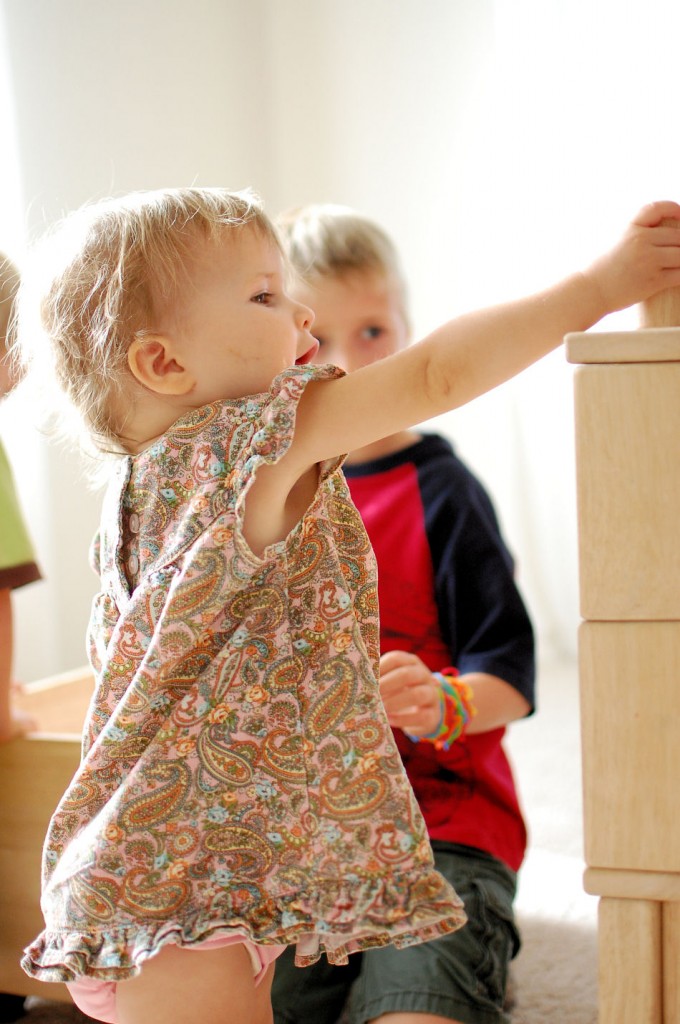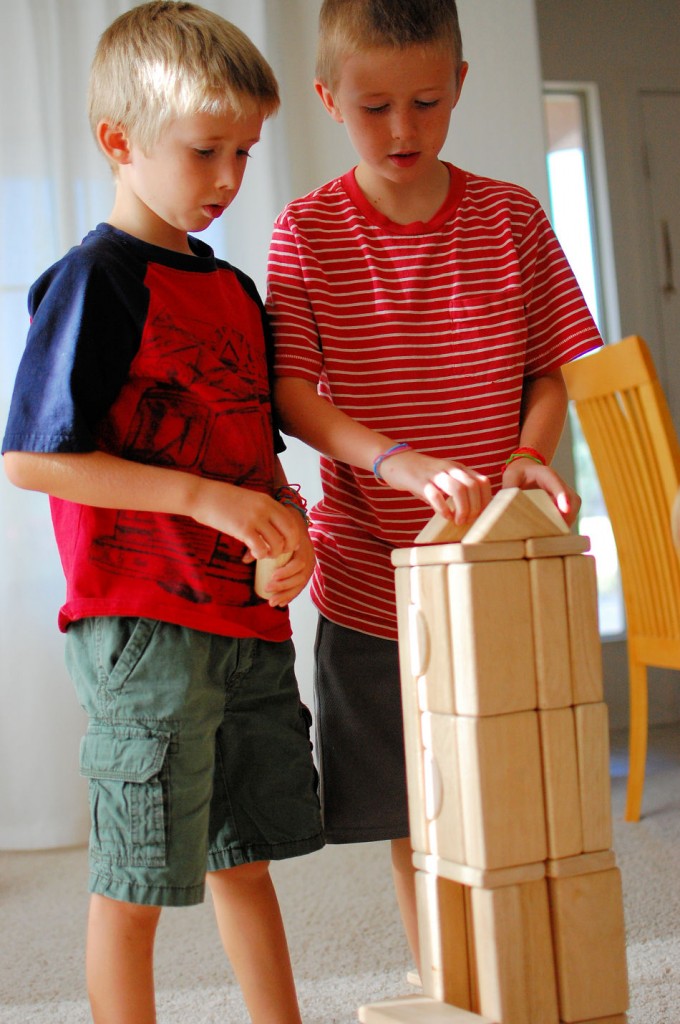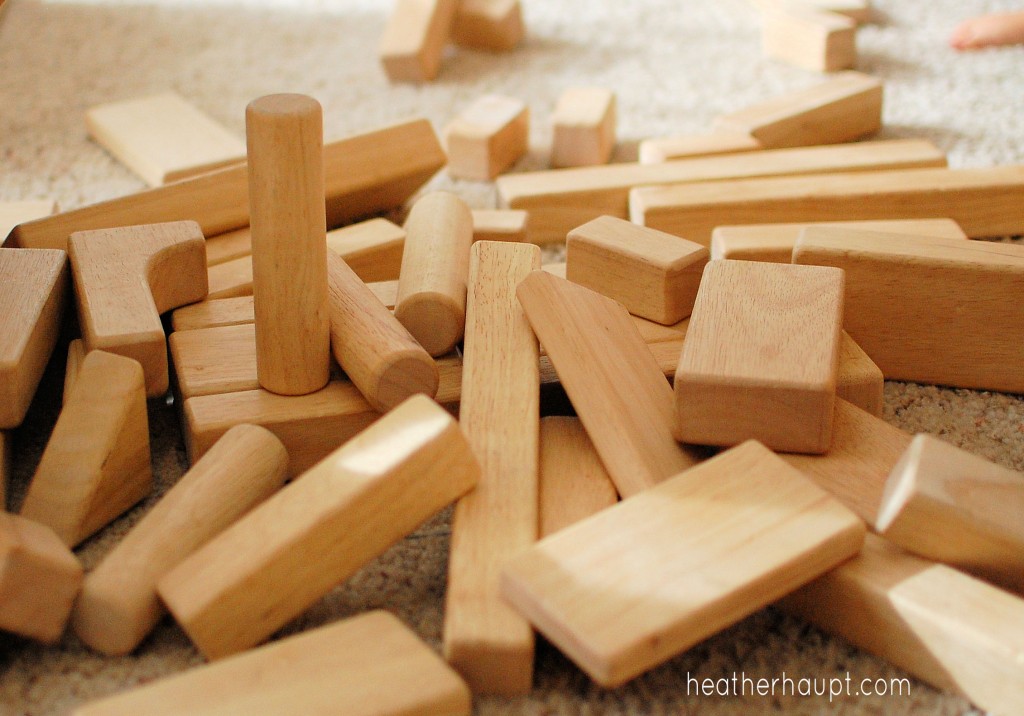 They built and built – carefully constructing a beautiful tower.  And then with one carelessly misplaced elbow, the whole thing came crashing down.  It couldn't have been more perfect.  I took that moment to talk to the boys about how our words can be used to build one another up or tear them down.  We discussed how EASY a careless word can totally decimate someone.  I'd love to say that we had a great time of conviction and wonderful prayer together, but they were far more interested in building their tower again.
Tomorrow is a new day and with our block experience fresh on our minds, we'll revisit this concept again as we dive into our first Fruit of the Spirit: LOVE!
Are you needing to focus on what the Bible has to say about the Fruit of the Spirit and grow in speaking life to each other? You can buy the book on Amazon for a special rate of $5.99 until August 1st.
You can also enter to win a PDF ebook copy on the rafflecopter widget below!   The giveaway ends on Sunday evening.  Because this is for a digital product, I'm so excited to let you know that this giveaway is open for ALL my readers, not just the one's living here in the U.S!
a Rafflecopter giveaway