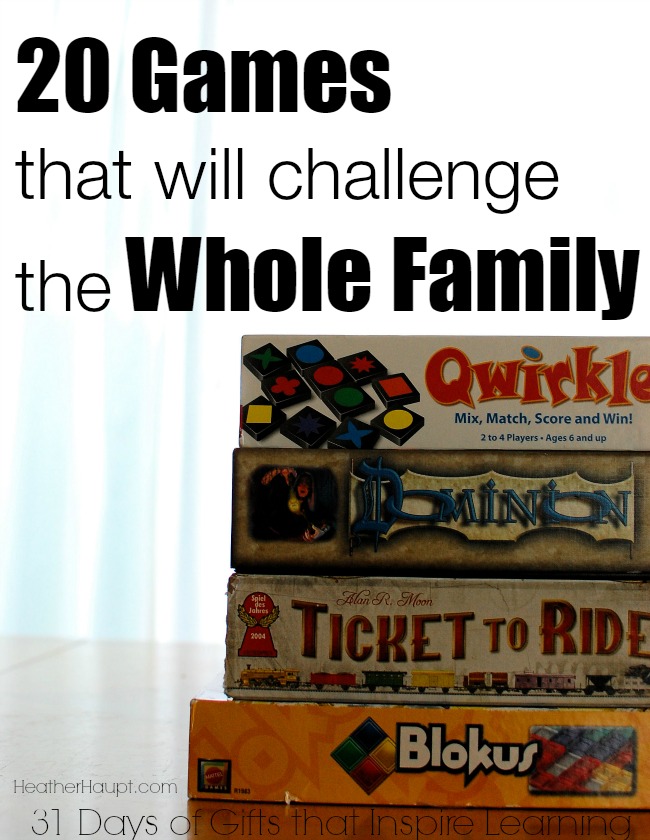 This post may contain affiliate links.
Playing games together as a family is a great way to forge relationship bonds and develop some important skills to boot. We love to play games in our family and so for day 24 in my 31 Day series on Gifts that Inspire Learning I'm sharing 20 engaging games that everyone will enjoy.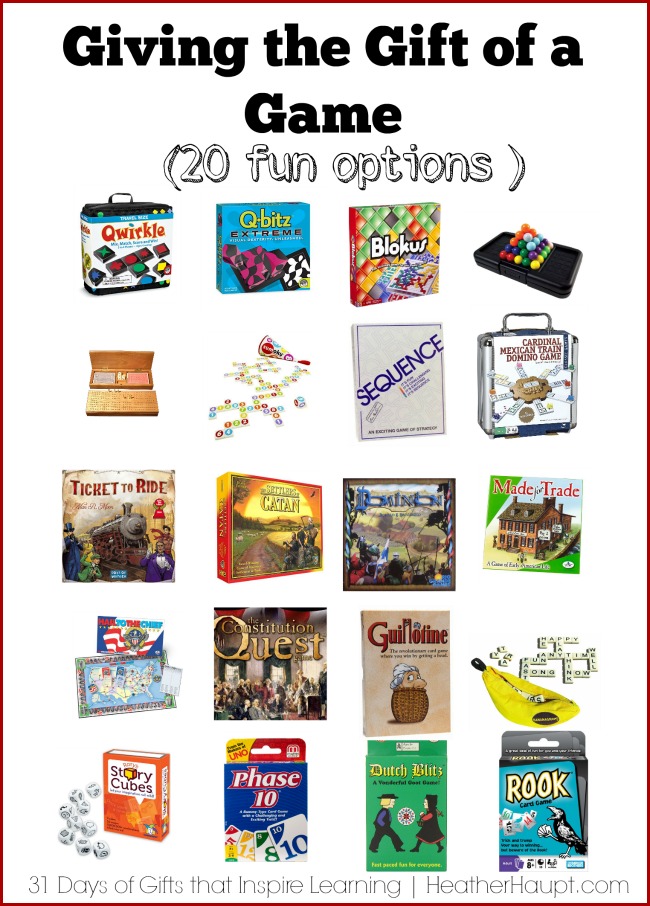 Visual Acuity – Brain Teasers
1. Quirkle (6+) – We love this game that requires the development of being able to think and visualize several steps ahead.  It's easy enough that the young one's can join in at a basic level, but complex enough to challenge older teens and adults.
2. Q-Bitz (8+) – This game is mesmerizing.  My brother-in-law is an engineer and bought this game a while back.  While it certainly appeals to the engineer types, I found myself mesmerized and this is not an area where I am strong.  Keegan and I played it for a long time the last time we were over watching their kids.
3. Blokus (5+) – A strategy game for the whole family. It's a race to see who can go out first as you scramble for space on the board.
4. Lonpos 505 (7+)  or Kanoodle (7+)- Brain-twisting solitaire games that are pocket sized! The Lonpos 505 version has 505 puzzles that will challenge your spatial reasoning and building skills. We have friends that own Kanoodle and our boys love playing it.  Reviews mentioned it that the game itself is made of higher quality materials, but there are only 100 different puzzle challenges.
Work the Numbers
5. Cribbage (8+) – I love how this 2-person game flexes the math muscles.  I have many childhood memories of my Opa playing with my mom and still remember the day I learned.  Now my oldest son plays with his great-grandfather.
6. Sumoko (9+) – Flex your brain power with this enthralling crossword-style number game that builds math skills (both addition and multiplication).  We don't own this game (YET), but with our emphasis on bringing math into everyday life and via games, this is at the top of my list of games I want to add to our collection.
Strategy
7. Sequence (8+) – Great for all ages.  I love the team element and the strategy required to know when to build and when to sabotage the other team.
8. Mexican Train (8+) – This is a fun family game that requires you to strategize to figure out how to get rid of your dominoes first!  Fun for all ages!
9. Ticket to Ride (8+) – There is also a U.S. expansion pack that puts new cities on the destination maps and adds new variations.  We've also enjoyed Ticket to Ride Europe which adds new twists to the game.
10. Settlers of Cataan (10+ ) – This game…  Where do I start?  We used to map out every weekend around inviting people over on both Friday and Saturday nights that played it.  Our kids love playing Cataan Junior and this is the year when we'll upgrade Xander to learning how to play the full version with us!  It is only a 3-4 person game, but there's an expansion so you can play with 6 and we've loved the Seafarers expansion pack that adds a fun new element to the game.
11. Dominion. (13+)  Warning.  This game is highly addictive.  You'll want to start collecting expansion packs which make the variety in gaming practically endless.  This has been our current favorite for the last several years.  Men are so hard to shop for me (or is it just me) and Rich has been thrilled to get various expansion packs over the last couple of years.  We play it ALL.THE.TIME.  We'll probably be experimenting soon to see if we can fudge the age recommendations and get the boys into it ASAP.
History
12. Made for Trade (8+) We loved this game as kids! Playing through the life of an everyday Colonial person, kids will experience pirate attacks, the first stirrings of the Revolution and many more historic occurrences, learning about early American history, economics and the practice of bartering.
13. Hail to the Chief (10+) – A game to help you learn about the presidents and our constitution.
14. Constitution Quest (10+) This is an entertaining and educational game great for adults and teens who want to learn and understand the freedoms guaranteed by this precious document.
15. Guillotine (12+) – This is a fun, fast moving game. While slightly morbid (you win by getting "a head" it provides a great opportunity to discuss the French Revolution and what went into it.  We bought this game as young marrieds and it sparked several conversations about the French Revolution.
Words-Literacy
16. BananaGrams (8+)– It's Scrabble in a banana bag!  This is a fun way play with words and spelling.
17. Story Cubes (8+)– This was a birthday gift last year and it was fun to watch their story telling skills begin to grow and develop as we played this game.  It's tiny enough to fit into a purse or backpack and pull out when you need to kill some time.
Cards
18. Phase 10 (7+) – We love this Rummy-like game where each phase requires a different objective.
19. Dutch Blitz (8+) – This is fast moving game is a great group game.  We play pretty much the same thing with regular decks of cards called Pounce.
20. Rook (8+) – A fun team game that requires strategy and creatively working together.
(Day 24) To check out the whole series…