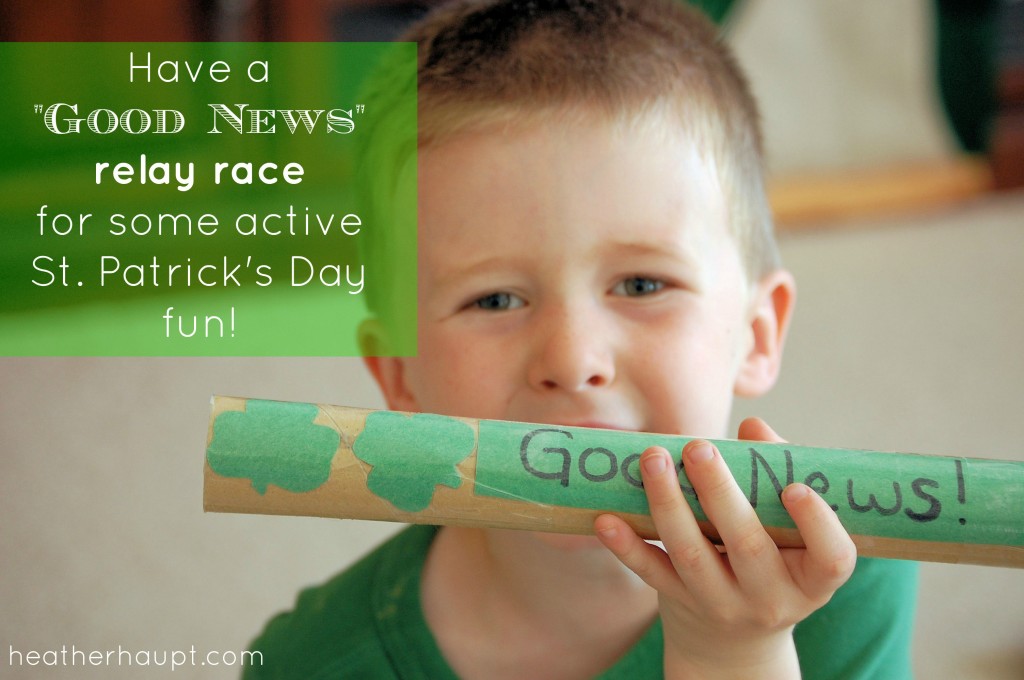 The kids are super excited that their cousins will be making their way from cold Michigan out to sunny Arizona.  We are excitedly preparing for their arrival.  With St. Patrick's Day on Sunday, I thought it would be fun to pull out our favorite Tomie dePaola book on this man and then have some great hands-on fun.
He passionately spread the love of Jesus all across Ireland.  So what better way to celebrate than to imitate St. Patrick in spreading the good news of God's love for us with a relay race and passing on the 'message'!
We made another baton since the one pictured above was from several years ago.  Luckily I had a paper towel tube.  We set about tracing and cutting out shamrocks and then placing them on packing tape and securing them to our baton.
And then of course, we had to set out and give it a good practice run.  It took the boys a couple of times to remember to speak the briefly speak the message in addition to merely handing off the baton.  But I think we'll have it down by Sunday… We've been talking a lot about the Good News over here and the boys had fun brainstorming who they could share the love of Jesus with in real life.
Now I just need to go through all those St. Patrick's Day art projects I've pinned and pick one…
Have a wonderful weekend and may the Good News go forth in your lives and touch those around you!