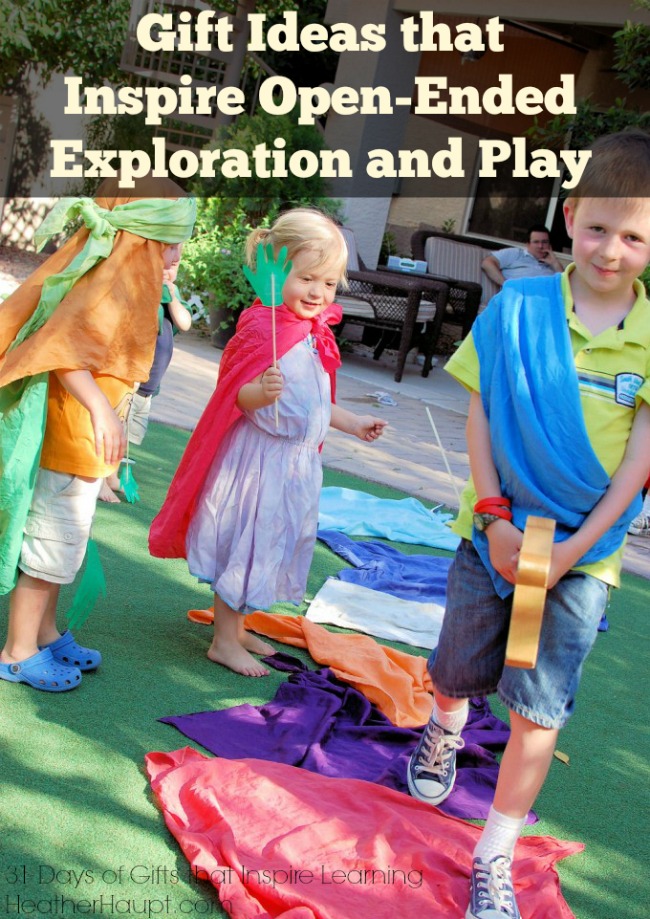 My 31 day series continues along.  For those of you just checking in, I'm on day 21 of a 31 day series on gift ideas that inspire learning.  We love to be intentional about what we give our children and it's been fun to have the grandparents join us in the experience.  You can read more about it and find a list of all the posts in this series here.
~~~~~~~~
Call me strange, odd, or quirky, but few things delight me more than sitting back and covertly watching my children play.  It is a beautiful thing to behold that imagination at work.  As a child, I told myself that I would never lose the ability to play pretend.  I desperately wanted to retain that part of childhood. Sadly, I have to say that I've lost my touch, although I still have my moments.  Despite my reduced skill, my appreciation for watching the imagination at work won't ever fade.
What is open-ended play and why is it important?
Open-ended play is that magical place where a child's imagination comes alive and they use resources around them in creative and fresh ways.  It is play without a destination or purpose in mind.
It is important because:
* It develops the imagination.
* It encourages creativity.
* It encourages problem-solving.
* It is the place where children make sense of what they've heard and learned.
* It's the place where learning is cemented into long-term memory.
How do we cultivate and protect open-ended play?
Protect Free Time – We do this by scheduling in down-time for our kids where there is no specific agenda.  We do this by reducing screen-time and other distractions at home during this "down-time" so they can play and explore.
Don't Micro-Manage – We need to give our kids time to be bored and then use discernment on when to step in and provide direction and when to step back and let them figure it out.
Provide Open-Ended Toys – My hallmark for a good toy is one that does less so the child imagines more.  A child doesn't need a toy perfectly suited for every whim.  Instead they should learn to utilize their imagination to make the toy or stick or whatever they have fit into their whimsical world.
Encourage Creative Uses for Items You Already Own –  I alluded to this in my previous point.  If your child wants to play "pirates" for instance, encourage them to make due with what they have!  Once they catch the bug on this, the opportunities for play are endless.
10 Gift Ideas that Inspire Open-Ended Play
This post may contain affiliate links.
1. Fort Materials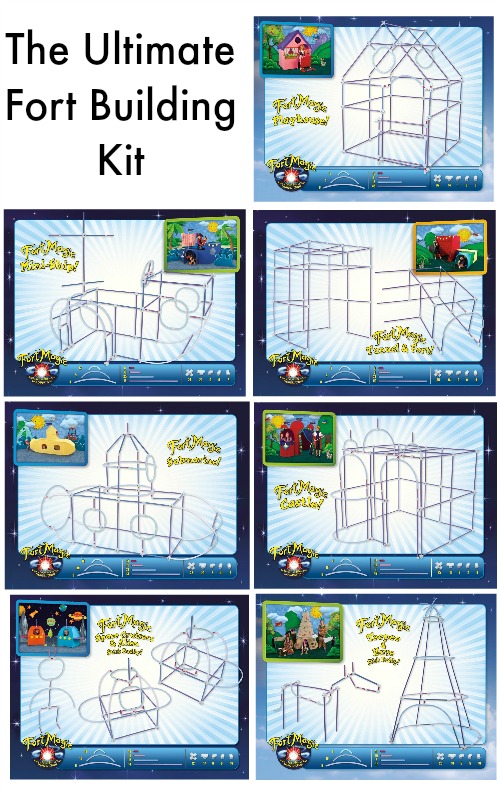 This can be as simple or elaborate as you want.  Giving your kids a set of PVC pipes and connectors can lead to hours of pretend play.  We used ours several years ago to build the dimensions for a family's quarters on the Mayflower.  We simply cut them down into 2-3 foot long sections and included connecting pieces.
If you want something similar that comes with inspiration, instructions and is easier to store, than I highly recommend checking out FORT MAGIC: FORT BUILDING & CONSTRUCTION TOY KIT FOR KIDS!
  These look amazing and would make a great group gift for all of your kids.  I like that it is thin, flexible and much easier to store.
2. Play Silks
If you've been reading here long, you know that I absolutely love play silks.  They are my all-time favorite "toy."  They are a bit pricey, but the open-ended options with them are endless.  Considering the sheer (no pun intended) amount of play time these have seen, I'd make the investment again in a heartbeat! Play silks are simply 1 square yard of silk.  But with the addition of a child's imagination they are magically transformed into belts, dresses, capes, knight costumes, Bible costumes and/or headdresses, campfires, rivers, and the list could go on. We have about 12 of them and use them every single day!  Plus they are compact, easy to store and easy to take with us when we travel!  We love the 100% silk playsilks, but you can also get a polyester playsilk set for fraction of the cost.
3. Blocks
I wrote about blocks yesterday, but they deserve to be mentioned again.  Blocks are so versatile and open-ended, especially the big set of blocks as you can pretend the round tube blocks are microphones, goblets, etc and the others can stand in for dishes, roads, ice skates (yes, mine have played hockey on them and pretended to figure skate on the carpet).
4. Costumes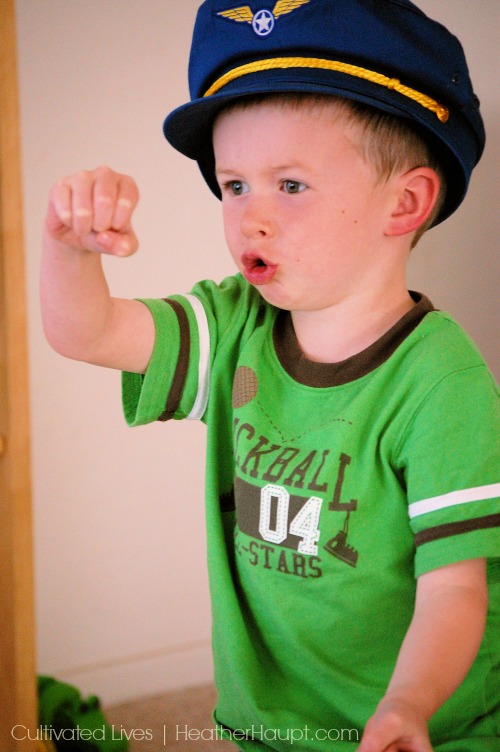 In our family, we don't rule out buying used at a thrift store.  One of my sisters bought the boys a costume collection from items she had thrifted.  We still play with that vest, extra cowboy hat, and the set of suspenders that came with that set. It was an awesome gift.  When building up your dress-up wardrobe, it is amazing how a few key pieces make a huge difference. Earlier in this series, I listed many costume recommendations.  Most of them can be used in open-ended ways.  Here are a few very general ideas to consider as well.
Skirts – Make or find a simple long skirt with an elastic waist.  These will really grow with your girls and last a long time. Paired with the right blouse it transforms into a variety of options.
Jackets – We've thrifted suit coats for the boys.
Hats – Hats are incredibly versatile.  The boys received a pilot hat for Christmas one year.  It has transformed into a sailor hat, a military hat and host of other purposes, transporting them into many realms.  Here's some vintage blogginess about this lovely hat.
5. Open-Ended Props
Stick Horses – Yes, I'm mentioning our favorite stick horses again.
Hockey Sticks – Our hockey sticks have stepped in for guns, stick horses, fort building materials and a number of other things as well.  Who knew?
Baskets – Baskets are a wonderful addition for girls during pretend play too.  Thrift stores or garage sales are a great place to find beautiful baskets.
What would you add to this list?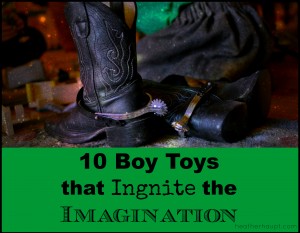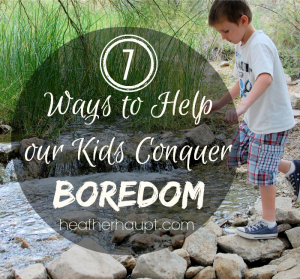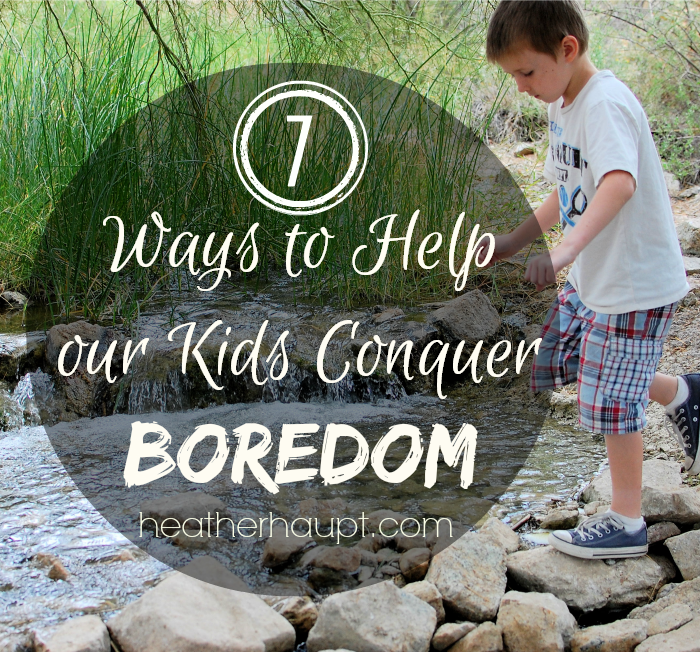 Want to follow along so you don't miss a single post in this 31 days of gift ideas that will inspire learning?  Enter your email address below. {Your privacy matters.  Emails are never sold and only used to receive blog post updates.}