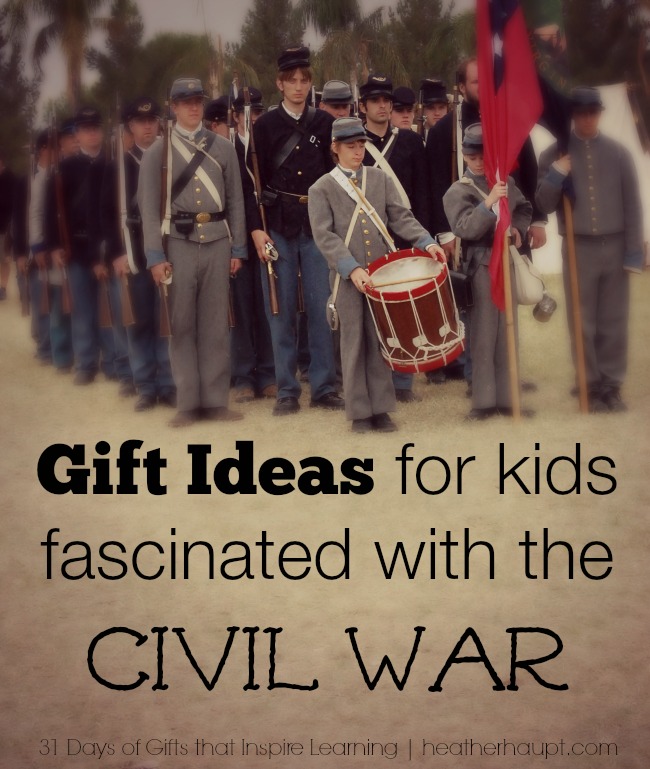 I hesitate a little with this list because we will be studying the Civil War this spring, so I don't have direct experience with most of these items.  But these are ideas that I'm considering for our Christmas this year and as you'll see when you get to the girl section, ideas I'm tucking away for when Greta is older.  This year our character focus is COOPERATION.  In the Spring we'll be learning about states and regions and how important it is to work together.  In that discussion, we'll be delving into a unit study on the Civil War, The War Between the States, or as some call it, The War of Northern Aggression.  I'm looking forward to talking to my boys about some of these issues as we dive into this unit.  It is sure to be fascinating. [ETA: The boys received many of these gems for Christmas last year and they really made our study of the Civil War so much more interesting!]
Want to experience INSPIRED learning?  Drama.  It's all about drama; as in dressing up and playing the part!  Yes, I've repeated myself on this front quite a bit over the last few days and you'll have to put up with it tomorrow too before I move on to other topics…  Costumes are a biggie in our home.  Just a key coat, skirt or hat can go a long way to transporting you into history.  The more you can include a drama and imaginative play element into your historical learning, the better!
Here are my top costume picks: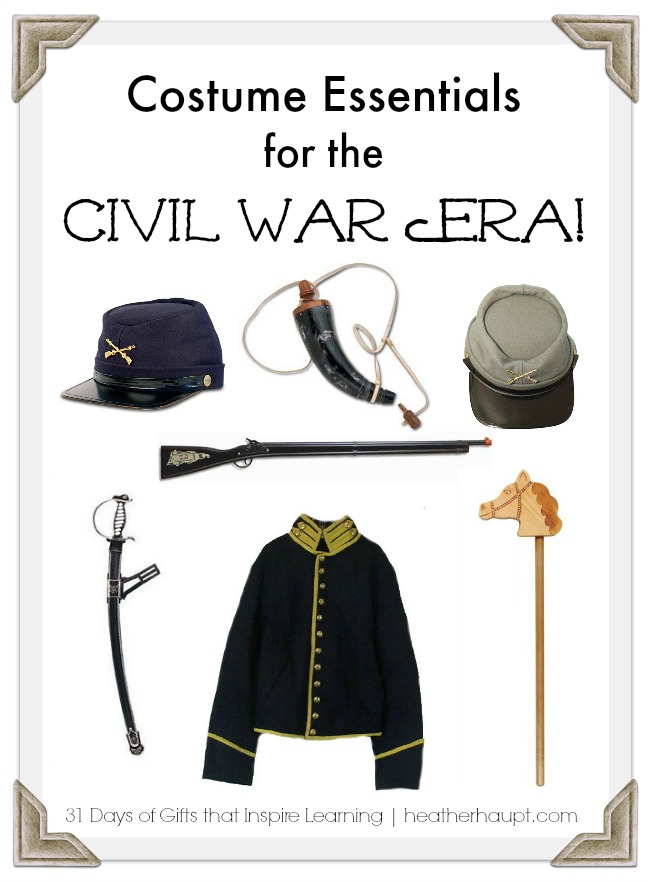 This post may contain affiliate links.
Two essentials that will be on my list are Confederate and Union Caps.
I'm thinking that these Brass Union or Confederate belt buckles look like another fun addition.
Civil War Rifle – I definitely want to get a couple of these!  They are perfect for so many historical periods.
Powder Horn – We have these from when we studied the Revolutionary War. They are awesome!
CIVIL WAR SABRE
 – These look fun and might get added to our Christmas wishlist!
And of course, we LOVE our wooden stick horses.
These would be perfect paired with the new audio drama, With Lee in Virginia.  After listening to this exciting drama, my boys immediately grabbed their costumes and marched outside to have battle re-enactments!

And what study of the Civil War would be complete without a Black Top Hat in honor of Abraham Lincoln!  I'd pair this with a good book on Abraham Lincoln like this one.
If you are wanting to go for a more authentic feel than I'd check out these options at Amazon or C & C Sutlery, a company who specializes in Civil War Reenactment supplies.  It's enough to make just about any history buff drool and want to take part in a reenactment!
Mapping Out Civil War Battles Through Play!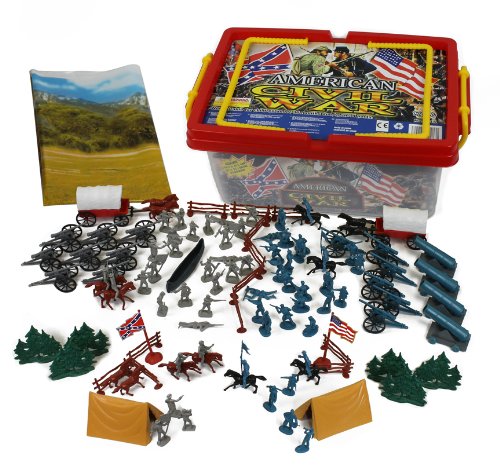 When learning about the Civil War, getting a feel for the battles is key.  As a girl, we had tiny figurines and made salt-dough maps of Antietam and Gettysburg.  When we were able to travel to Anteitem the next year, it was amazing how the battle became so real in my mind. Between reading great books and then moving our figurines through the various stages of this key Civil War battle, it all came to life as I walked the sunken road or crossed Burnside bridge.  We plan on getting this set for the boys so they can make their own salt-dough maps and recreate their own battles.  Sadly, we don't have family back east anymore, so I have no idea if we'll ever make it back there as a family.  The figurines will have to do for now.
Civil War Figurine Set includes soldiers, flags, cannons, a background map and that all important carrying case in which to store all of these small treasures.  Wow.  I'm in love with this set and it is going on our Christmas list.  These battles were so important and I plan to make a some salt-dough maps and letting the boys re-enact a few key battles.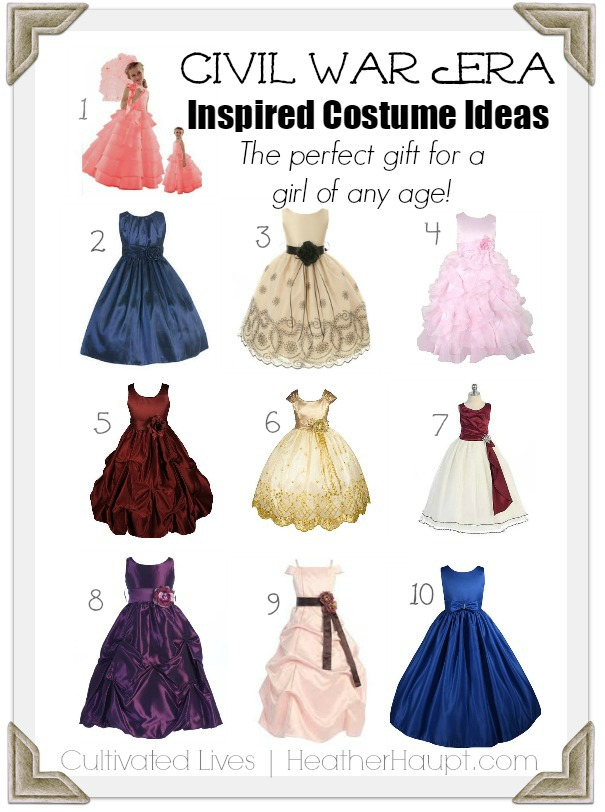 Can I just tell you that I'm over the moon excited to have a little girl!  As I started looking for costumes to share with you all, I found myself really disappointed with the quality of most of the costumes out there.  But it didn't take me long to remember back to one of my mom's costume tricks.  I still remember the day like it was yesterday when we were in JC Penney's Outlet and helping my mom pick out an organza blue flower girl gown as a gift for my sister.  That dress was so well made and we played in it all the time.  So I started searching for flower girl dresses and selected some that gave off a Civil War era vibe, have full, long skirts and cost at least half of what you'd pay for a well made Civil War era costume.
1. Wedding Layers Sleeveless Dress
 (comes in 14 colors)
2. Shimmering Pleated Crystal Taffeta Tea Length Dress (comes in 7 colors)
3. Champagne Floral Embroidered Flower Dress

4. Pink Satin & Organza Tiered Dress
5. Satin Flower with Gathered Skirt
(comes in 14 colors)
6. Flower Lace Overlay Dress with Ribbon Sash – Tea Length
 (comes in 14 colors)
7. Burgundy Surplice Double Layer Girls Dress
8. Flower S-Band Big Girls' Taffeta Long Tea Length Dress
 (comes in 10 colors)
9. Matte Satin Regal Puff Floor Length Dress

10. Full, Long Dress with Bow at the Waist (comes in 14 colors)
If you are looking for extra flounce, you can get this fun 3-Hoop Crinoline Petticoat Skirt
To add an special touch to your outfit, you could add a White Lace Parasol or these adorable Lace Gloves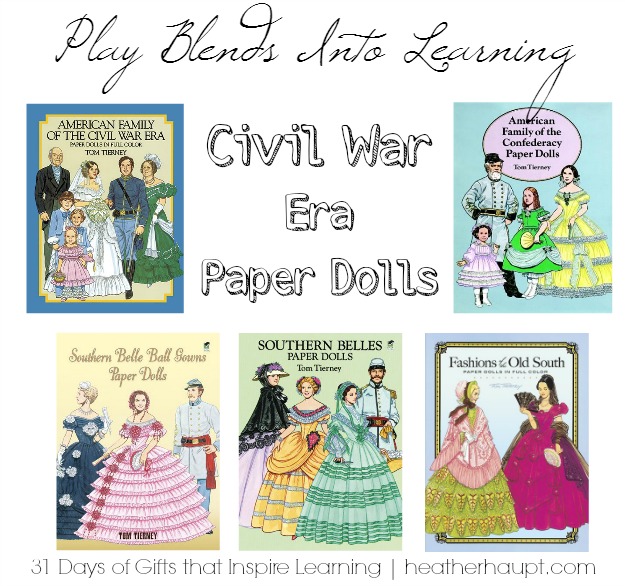 Here I go again with period paper doll sets.  I can't wait until my daughter is old enough to start playing with these. Thankfully, I've put the research in and recorded them here, so we'll be ready when the time comes… Of course it depends on the child, but I think these are perfect for girls between 6-11.
American Family of the Civil War Era Paper Dolls
American Family of the Confederacy Paper Dolls 
Southern Belle Ball Gowns Paper Dolls 
Southern Belles Paper Dolls

Fashions of the Old South Paper Dolls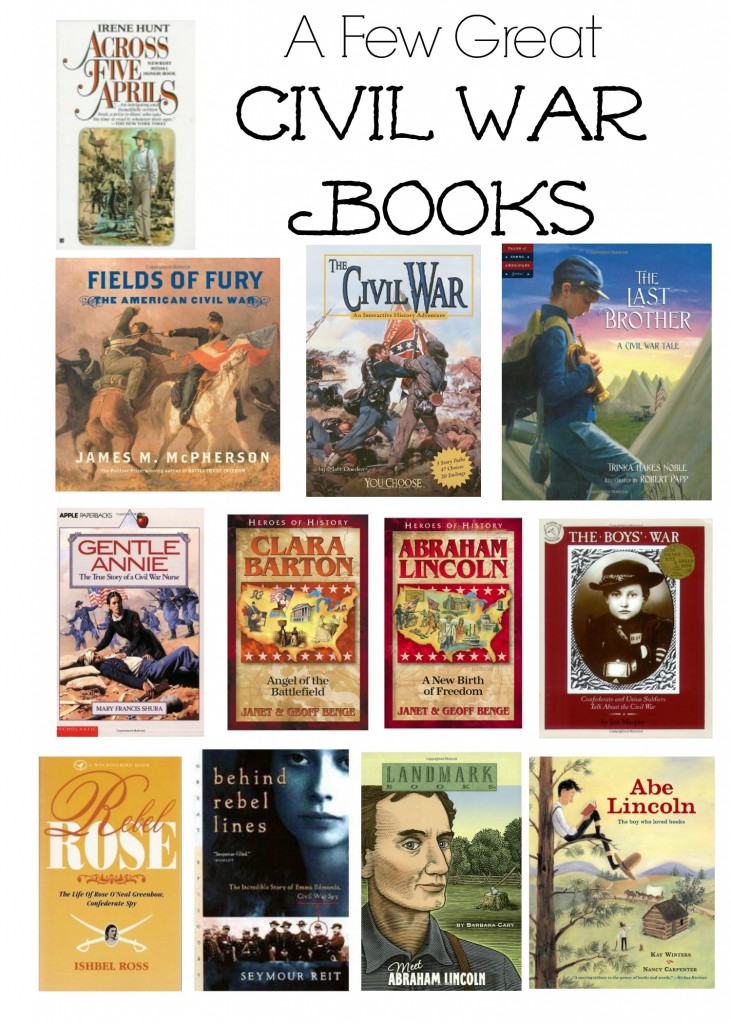 Top Civil War Picture Books
Fields of Fury: The American Civil War

The Last Brother: A Civil War Tale (Tales of Young Americans)

Abe Lincoln: The Boy Who Loved Books
Top Civil War Chapter Books
Across Five Aprils

The Boys' War: Confederate and Union Soldiers Talk About the Civil War

Meet Abraham Lincoln (Landmark Books)

Abraham Lincoln: A New Birth of Freedom (Heroes of History)

Behind Enemy Lines: The Incredible Story of Emma Edmonds, Civil War Spy – This is a childhood favorite of mine.  I went through a spy/espionage phase and read this book more times than I can found.
Rebel Rose: The Life of Rose O'Neal Greenhow, Confederate Spy
 – This is another favorite about a female spy from the Civil War period.
Gentle Annie: The True Story of a Civil War Nurse
 – What an inspiring story of bravery that looks a bit different than what we normally think.
Clara Barton: Courage Under Fire  (I'd pair this lovely book with a red cross nurse cap since she founded the Red Cross!)

The Civil War: An Interactive History Adventure – I saw this a few months ago and checked it out.  It is a fun twist that lets you decide the twists and turns of the story.
The Civil War for Kids: Activity Book
Would you add any to this list?
This is day 8 of my series! Be sure to click on the box to check out other gift guides that will spark the love of learning.