I am just so inspired and encouraged as I read in the comments from Monday's post about what kind of legacy you all want to leave your children.  Isn't it so amazing to walk in community and unity in our goals?  Of course how that plays out will be unique as each family dynamic is different and we are all unique people.   Over and over again, you all said that you wanted to see the hearts and minds of your children turned towards Jesus!  I couldn't agree more.
I've heard a lot over the years about 'reaching your children's hearts.' In fact, in my early years of parenting, I would start asking for particulars.  What did that mean?  How did one go about doing that?  Most people seemed afraid to give any kind of practical guidance.   But I don't just want to be inspired with renewed vision, I want some practical help as I go about living this out in my home.  And that is why I'm so excited to share with you another favorite resource in our home.
Educating the Whole Hearted Child.
This mammoth book is geared for homeschool families and is chock full of inspiration, help with honing a vision for discipling and educating your children and practical ideas to help live this out.  Clay and Sally Clarkson identify the crux of what so many parents are yearning for – raising whole-hearted children who love God deeply, delight in the adventure of learning and have rich relationships with the family.  While this book is certainly not prescriptive, it is full of principles that each family can take and weave into their home.
Educating the Whole-Hearted Child is not necessarily designed to be read from cover to cover, although you certainly could if you had the time and desire.  I love having it as a resource on my bookshelf.  I turn to it for inspiration on how to disciple my children.  I turn to it for a pick-me-up on what my mission is and why I'm homeschooling!  I turn to it for practical help and suggestions as I live out the beauty of creating a home where we learn instead of merely replicating school at home.  We get to focus on REAL books, REAL life and REAL relationships!
Tucked inside this book, you will discover how to:
Make your home and family the heart of your children's education
Train your children to become creative, self-directed learners
Enrich life and education with living books
Identify and work with each child's learning style
Help your children love to learn as naturally as they love to play
Gain confidence to teach with practical, commonsense methods
Their goal with this book is to give us a larger vision for what God can do in our homes and provide a model of home education that gives us the freedom to follow the Holy spirit for what our children need most.  Do I hear an amen? 
Each time I pick it up to read a section, I walk away encouraged and equipped, because I'm setting about the monumental task of raising Daniels.  I want to cultivate a home where the Spirit of God is present, invading our daily lives!  I want to cultivate a home where we read – alot and learn together as a family.   I want to cultivate a home where those character lessons are just as important as the academic ones. This beautiful book is seriously a gold-mine of information and inspiration that will bless anyone who reads it.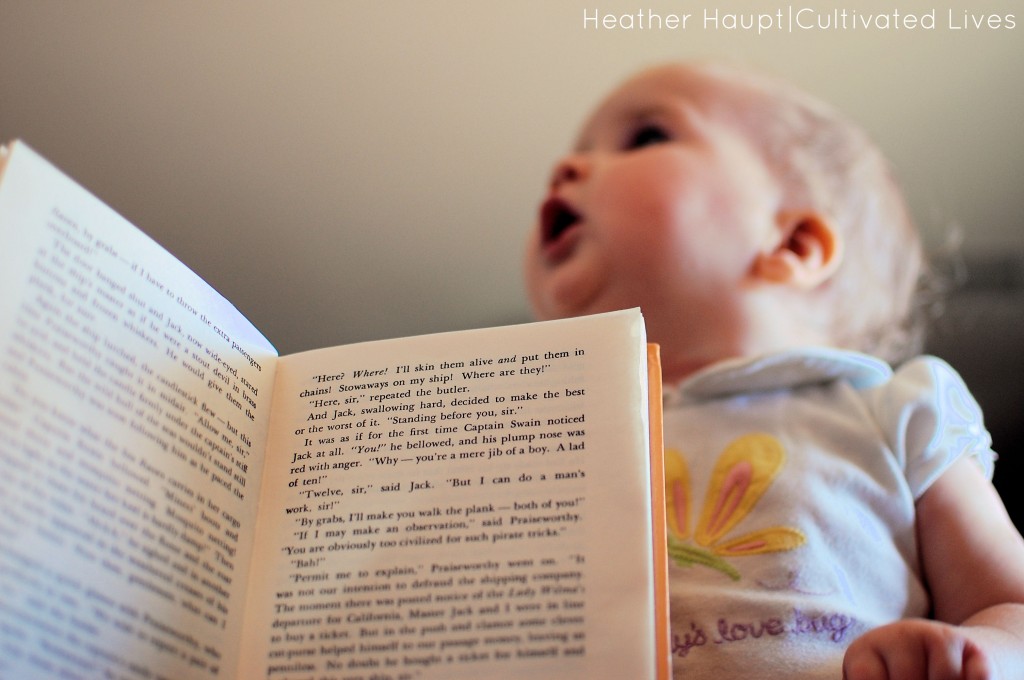 Giveaway:
The Clarkson's have graciously offered to give a copy of this must-have book to one of you dear friends! I'm tickled pink.  You can find Sally blogging at I Take Joy.  She also runs a phenomenal site called Mom Heart | Coming Home to God's Heart for Motherhood, and last but not least, you can find all of their books and updates on their ministry at their Whole-Heart site.  I encourage you to check out all three!
You can enter to win using Rafflecopter below.  Leave a blog comment and press the +1 button to unlock other options for more entries.  Giveaway ends right before midnight (AZ time) on Wednesday 03/20/13. The winner will be emailed and announced on the giveaway widget below. Winner will have 48 hours to respond to the email or a new winner will be selected. All entries must be documented within the Rafflecopter widget below. Giveaway is open to US residents only.
If you don't want to wait and see if you win a copy, you can purchase it from Amazon, my usual default,  or buy it on sale at Christian Book.com.  Even with shipping charges, it still beats out Amazon's price!
This giveaway is part of my 'house-warming' party!  We'll have a few giveaways posted each week in March as I share about things my family loves!  Welcome to my new website!  Check out the opportunity to win:
Hidden Art/For the Children's Sake bundle (through 3/15)
Arizona Homeschool Convention and Curriculum Fair pass giveaway (through 3/20)
Playsilks: Unleashing the Imagination (through 3/22)
Block Play: Building Up the WHOLE Child (through 3/27)
Linked to: Hip Homeschool Mom's Giveaway Day.