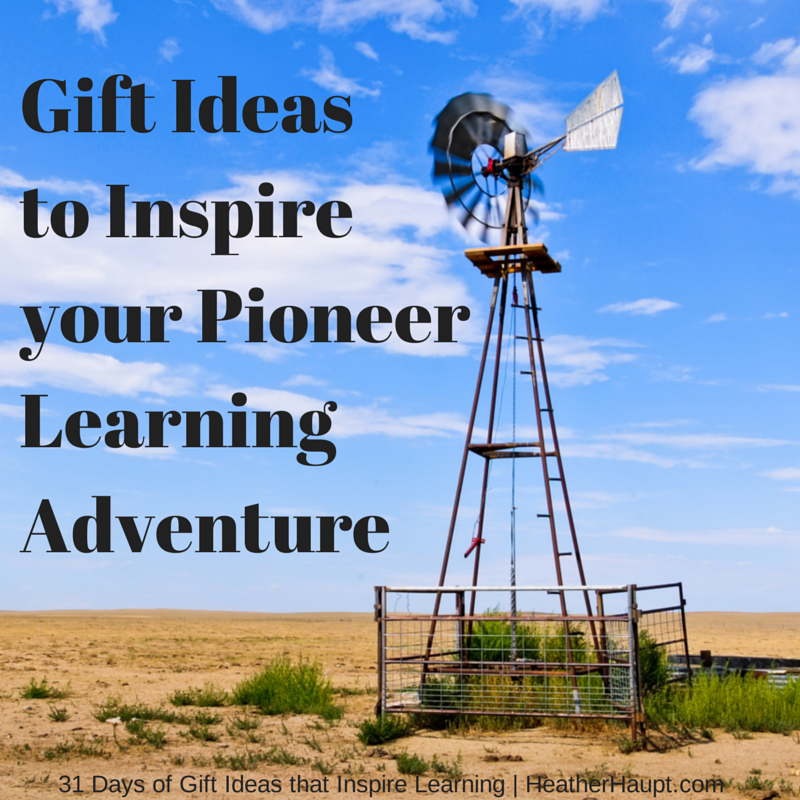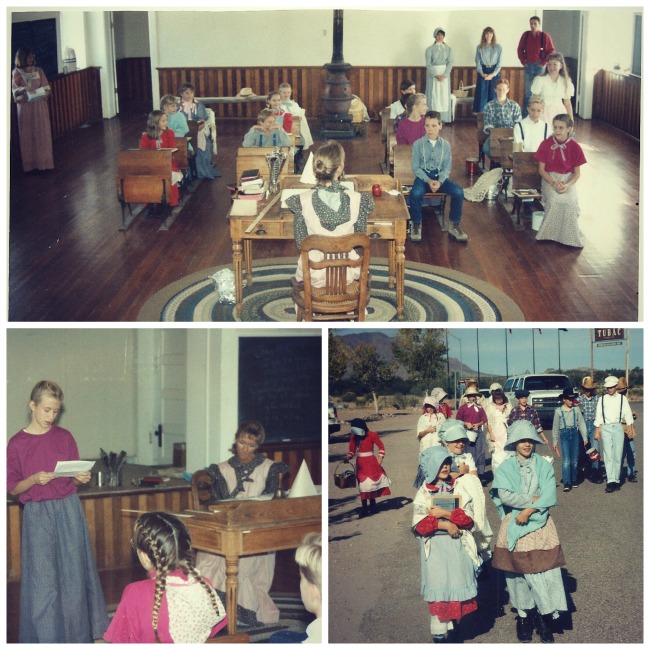 Yes, this is vintage homeschooling and that lanky girl in the magenta shirt is me. One of my favorite field trips as a girl was down to the historic town of Tubac in southern Arizona.  Our group had rented the old school house for the day.  Girls donned dresses and bonnets while boys ironed white dress shirts and added suspenders to complete their costume.  For an entire day, we stepped back in time.  We did old-fashioned school assignments (they aren't for the faint at heart), packed lunches in cute little pails and even had segregated playground time.  As an avowed tomboy I was pretty disappointed to not get to play ball with the boys, but I quickly rallied the girls for some fun active games of our own.  They were awesome enough that the boys soon stopped to watch from their side of the school yard.  But I digress…
Reading about this era in history is fun. Entering into it with our imaginations took our learning to a whole new level.  Suddenly, we were experiencing it.  And while this particular experience stands out because we went somewhere, you can enter into history right from your own home.   How?  Costumes! Our costumes played a critical role that day.  Some were fancy and others more simple.  But they inspired each of our imaginations and served to transport us to another world, another time.   It never has to be an all-out thing, but adding in a key costume piece here and there works wonders!  Having a simple bonnet will probably do the trick with learning about this period of history.
This post is pretty girl-focused.  For boy ideas look back to my Cowboy or Davey Crockett posts.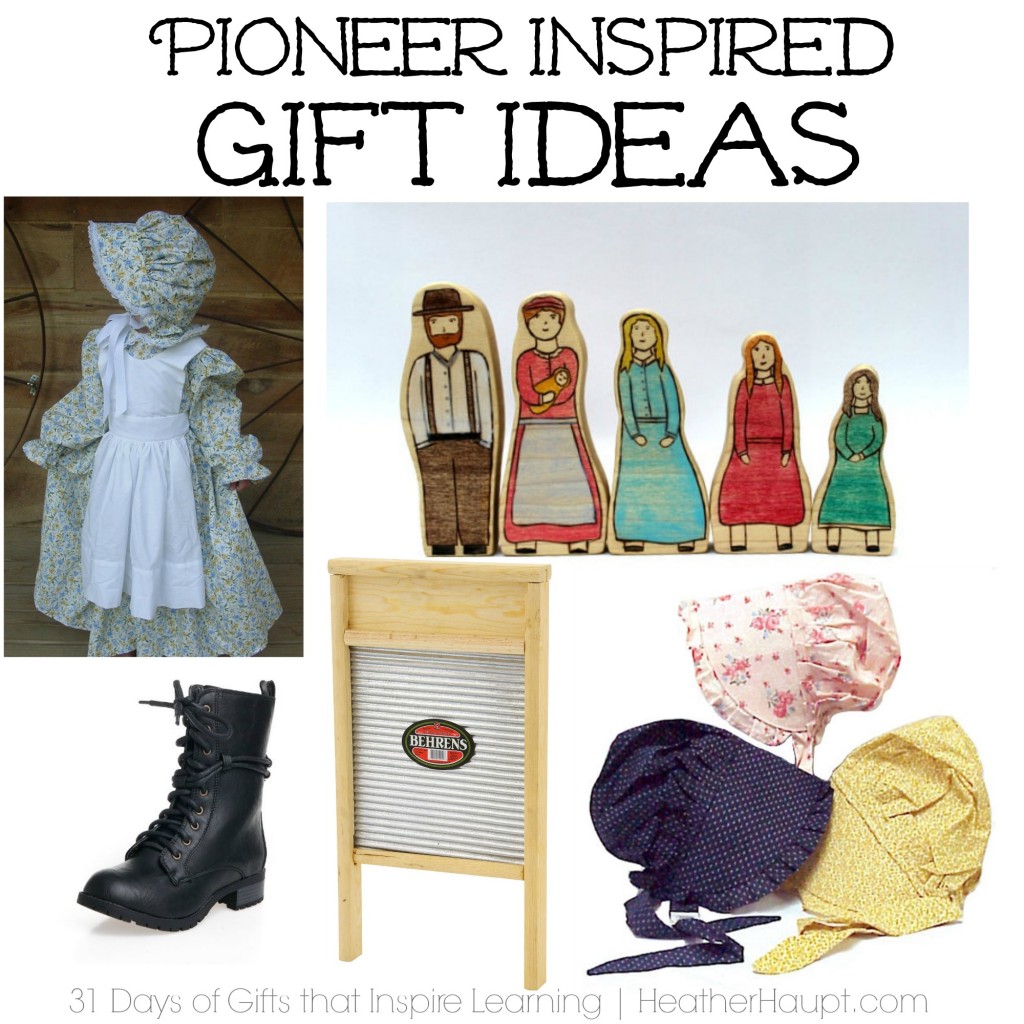 This post may contain affiliate links.
Dress the part!  Make one (it's easy to find a pattern) or buy one.  Despite the blah picture, this one received good reviews.  And of course you can always go the Etsy route. Ashley's Attic, has a whole line of pioneer dresses.  A less expensive option is to make skirts and get a tailored blouse that can go with it!  Skirts are much easier to make and we managed to make several in our day with our limited sewing skills.  The fun part is browsing all of the calico's at the fabric store and picking out one that fits each persons personality.  Mine were always blue!
Bonnet – every girl needs a bonnet, or two…  Again, you can buy a pattern or I've pinned several free bonnet patterns/tutorials on my Costumes to Sew pinterest board.
Boots – If you want to take it a step further, getting these cute pair of boots will complete the outfit.  Plus they would be cute for winter wear right now.
Galvanized Washboard – so she can see what hand-washing was like!  I'm not the only one who thinks this would be a super fun idea.  My friend, OhAmanda, threw her daughter a fabulous Little House birthday party and said that washing with a washboard was one of the highlights of the party!
Waldorf Inspired Little House Dolls – Aren't these simply beautiful?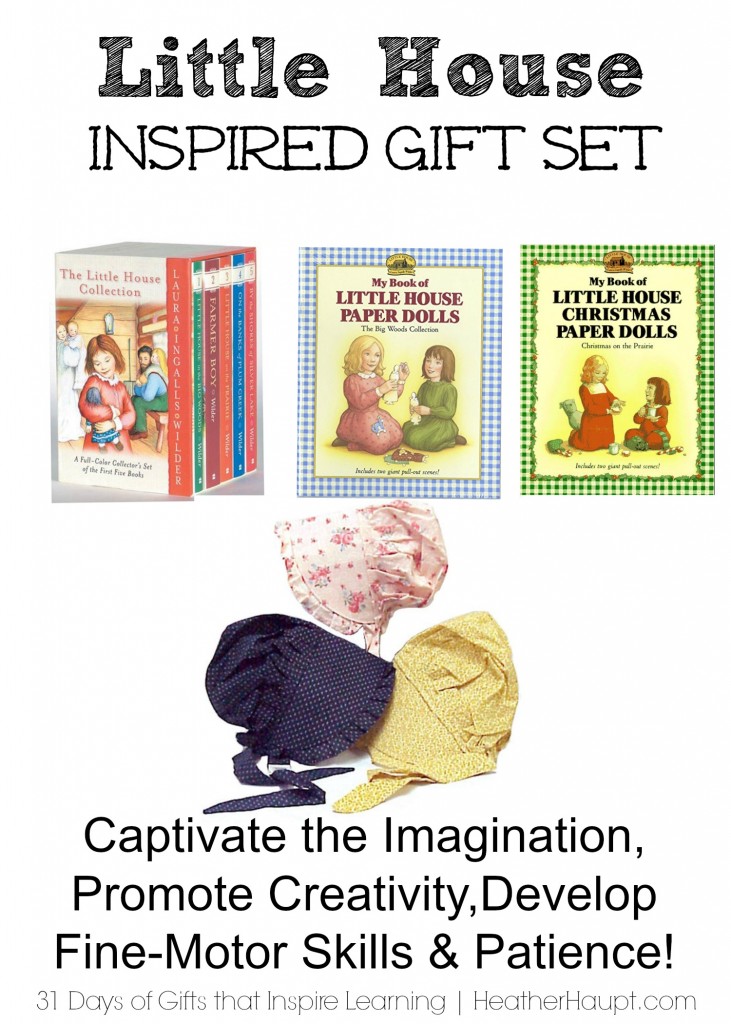 And as I mentioned in my medieval and colonial gift guides, paper dolls are a wonderful and frugal way to encourage pretend play and foster a fascination with various historical periods.  Not only that but playing with paper dolls also promotes fine-motor skill development (which isn't a toddler/preschooler activity), promotes creativity as they create their own pretend worlds and produces patience as they cut out dresses. fine motor skills, creativity, and patience!
I love these Little House on the Prairie Paper Dolls, both The Big Woods Collection
 and the Christmas on the Prairie collection.  There is a pop-out scene that is two sided giving a backdrop for your little girls play.
I think the perfect gift combo for a young girl would be this boxed set of the Little House series (because every family should own them) and a bonnet.  A bonnet is one of those key pieces that immediately takes you there even if you don't have the rest of the outfit!
Oh and if you are wanting pioneer themed paper dolls that aren't hinged to a particular "story", then check out these American Pioneer Family Paper Dolls.
Another wonderful toy that both inspires the imagination and promotes problem skills through building are Lincoln Logs.  They get to build their own frontier lob cabins.  Throw in this Wild West TOOB
 set and you have the makings for some great pretend play!  I'm also curious to try out this LINCOLN LOGS Building Manual.  As one who is not engineer minded, I'd appreciate some more directions!
Pair it with a book!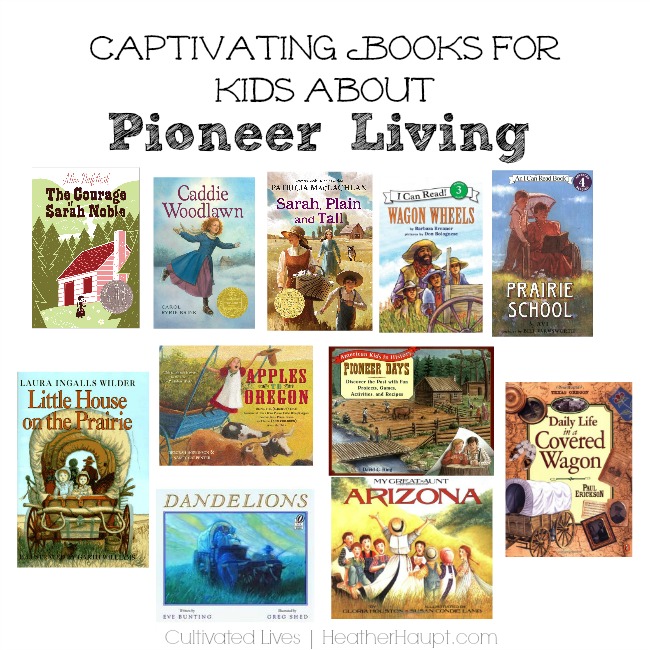 Books always make great gifts, especially when tied in with a theme.  Here are a few of my top recommendations.
Picture Books (no one is ever too old for a good picture book!)
Apples to Oregon
 – a delightful book about a father who brought fruit trees (and children) across the plains!
My Great-Aunt Arizona
 – love this fanciful book
Pioneer Days: Discover the Past with Fun Projects, Games, Activities, and Recipes
 – a great collection of resources to make the most of your pioneer adventures.
Daily Life in a Covered Wagon – an engaging read that helps you imagine what it would be like to go west in a covered wagon.
Readers
Wagon Wheels, Level 3, Grade 2-4 – My boys love this one, but I thought I'd include it here.  It is great for the new reader and a quick, empowering read even for the older ones.

Prairie School (I Can Read Book 4) – Love this book that inspires kids with the power of learning and discovery.  I love the natural learning atmosphere that is embodied here – much like I try to create in our own home.
Chapter Books
Little House on the Prairie Boxed Set – because every home should have a set so you can read them over and over again.
Little House TV Series – ok, ok, I know this isn't a book, but once you've read the books (read them first!), this series is delightful and clean family entertainment.
The Courage of Sarah Noble
 – a classic read-aloud book.
Sarah, Plain and Tall – another classic pioneer days book.

Caddie Woodlawn – As a tomboy, I LOVED this book as a girl.  She loves adventure just as much as I did.
Want to follow along so you don't miss a single post in this 31 days of gift ideas that will ignite the imagination and inspire learning?  Enter your email address below. {Your privacy matters.  Emails are never sold and only used to receive blog post updates.}