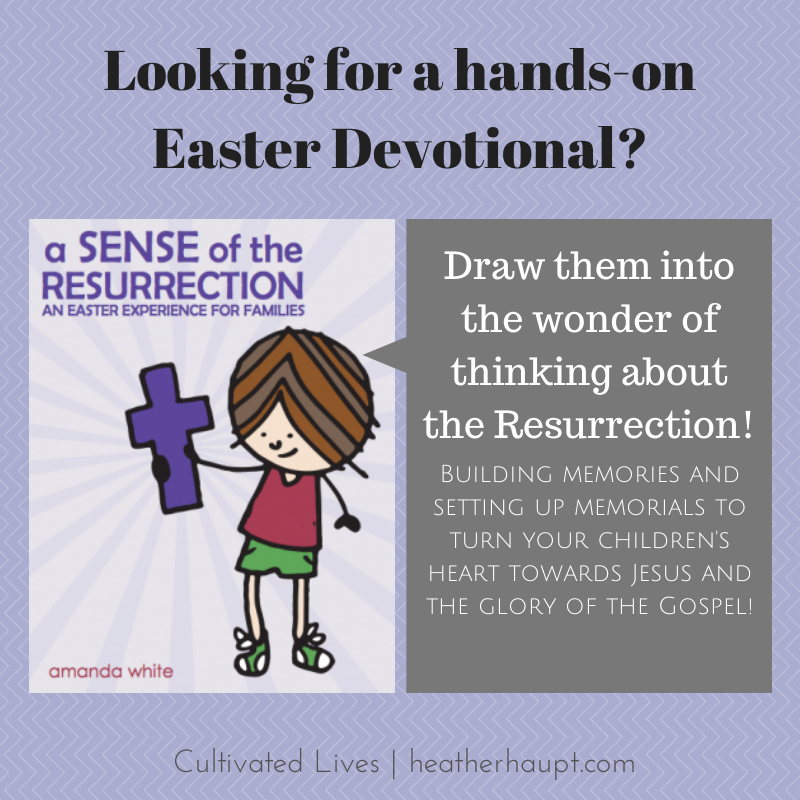 COUPON CODE "Cultivate" can be used to get the book 20% off.  Good through April 4th!
Celebration of the Resurrection has been one of my favorite times of year since I was a child.  I've talked about it before in sharing how to make it a big deal for young children…  There is simply no way to completely unpack all of the amazing facets that played into God's redemption plan.  Each year, I look to both incorporate some fun, long-held traditions as we ponder this central event in human history as well as add something new.
This year, we'll be delving into OhAmanda's freshly released ebook, A Sense of the Resurrection.  I mentioned it yesterday on Facebook, but wanted to read through it before I officially shared it here.  I have to say that I am delighted at this unique approach to drawing our children into thinking about the death of Christ and celebrating in the glory of his resurrection!
What age is A Sense of the Resurrection geared towards?
I think it would work best for kids between 4-10.  Younger or older siblings will still love it however.
Here are a few reasons why I'm so excited about this new resource!
Sensory Rich: Children learn through engaging their senses.  This book masterfully engages each of the 5 senses as it draws our family into a growing understanding of and relationship with Jesus!
Bible-centered.  The ebook is your resource.  The family text: the Bible!  She provides Scripture references to read for each of the 12 activities.
Provides context and talking points.  So often, parents don't know where to start with having a conversation about what we read with the Bible and how to unpack these truths with our children.  This book provides that!
Only 12 Lessons.  Yes, this is a positive.  The truth surrounding Jesus' death and resurrection are deep and worthy of pondering.  This is not the time to jam pack schedules with lots of art projects.  I plan on starting next week and doing 2 a week so we have time to ponder and savor how God is speaking to us and what we are learning about His great sacrifice.
A Mix of Craft and Activity – Amanda refers to these as building memorials and making memories.  It is a wonderful blend of both which mixes things up.  Surprisingly, I'm not a big arts and craft kind of person.  I've blogged about many of our projects in the past, but that is not a daily norm around here.  We do love simple activities that draw us into meaningful conversation.  This beautiful ebook does just that!
She provides a sneak peek at one of the lessons here.  Each lesson consists of the following sections:
Read it together
Do it together/Make it together (depending on if it is an activity or a craft)
Talk about it together
Do more together (there is an option to make a printable flag banner with a symbol for each lesson)
If you are looking for something new to do with your kids this year, you can't go wrong with A Sense of the Resurrection.
I pray you have a wonderful season of contemplating the death and resurrection of Jesus and draw your children into the wonder of it all too!