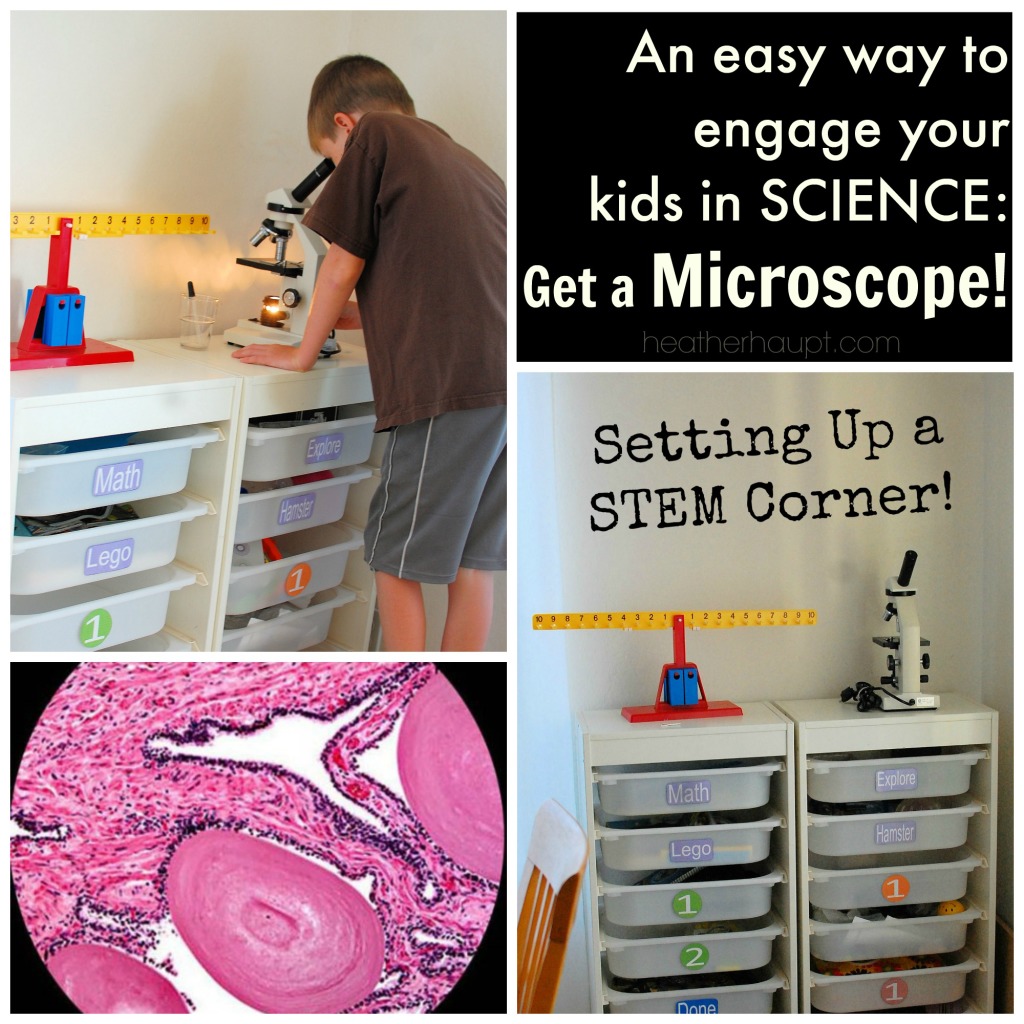 I still remember that magical Christmas when I opened up an amazing microscope kit. I was over-the-moon excited and we spent hours looking at things under the microscope.  All three of us girls enjoyed it even though I was the only one that ended up going on to college to pursue a degree in biology.  That Christmas gift was the start of a life-long love of inspecting the microscopic world.  We "played" with it year-round for several years.  Investing in a microscope can pay huge dividends in encouraging free exploration.  And if you are homeschooling and think you might homeschool through high school, I'd highly recommend you invest in one that will carry you through the high school years.  I bought one when I taught a high school biology lab 10 years ago and my kids have used it more times than I can count, especially now that we've set our our STEM corner.  It is worth every penny I paid for it and will continue to do so until all of my kids graduate!
If you want to encourage this kind of exploration with your own children, here is a little help to get you started.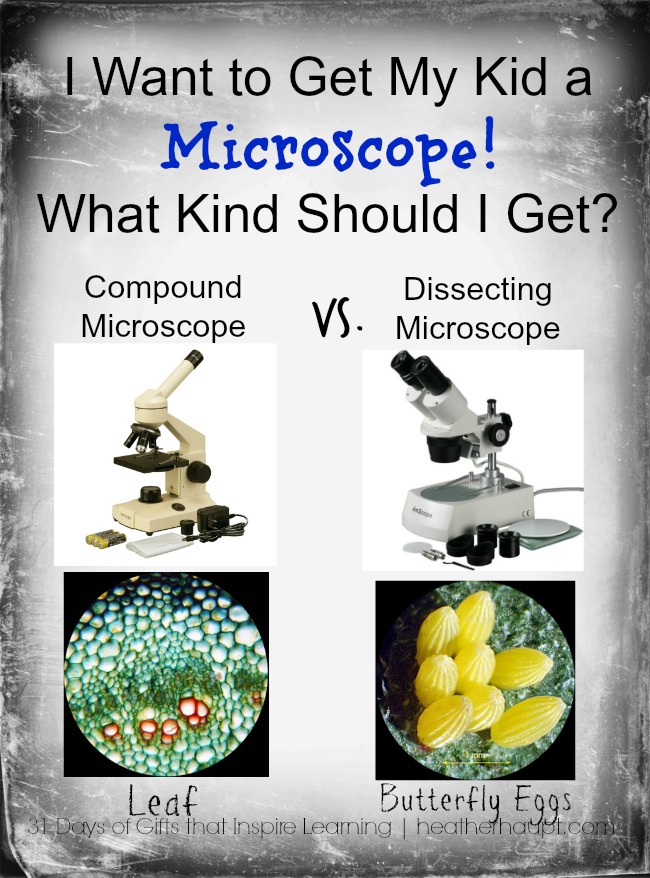 What Kind of Microscope Should You Get Your Child?
That's a great question. I was all prepared with a simple answer until August when I started exploring dissecting microscopes.  I own a compound microscope, but I'm seeing that there are benefits to each.  So I'm going to explain the difference here so you can make the decision that might be best for your family.
In a nutshell:
Compound Microscopes  
thin specimens on slides
light shines from below the slide
frequently need to stain them for cellular structures to be visible
perfect for looking at salt/sugar crystals, drops of blood, swabs from a petri dish or a drop of pond water
Dissecting Microscopes 
Acts as a super powerful magnifying glass. (typical magnifying glass anywhere from 2-5x, a dissecting microscope 20-80x)
useful for examining things that are too thick or big for a light microscope
light comes from above or below
don't have to slice specimens and/or prepare slides
perfect for looking at leaves, insect wings and other aspects of a bug, rocks, coins, etc
won't enlarge as much as a light microscope will
There are benefits to both.  If you are wanting to promote spontaneous exploration that doesn't require preparing slides, then I'd go with a dissecting microscope.  (It's vaulted to the top of my wishlist for the kids.)  If you are wanting to explore at greater magnification and have an instrument that you'll need anyway once high school biology arrives, then I'd go with a compound microscope.
The best news: you really can't go wrong with whichever one you pick.  If you are a science/nature/biology junkie like me, you might just want to have both eventually.
As an added bonus, each of these microscopes are currently around 50% off on Amazon right now!  Now that's a sweet deal.
So here are the details on what to get for each type:
Compound Microscope Gift Set
High School-Grade Microscope 40x-1000x  – This is the microscope that I bought when I was teaching high school biology labs.  It is very simple and intuitive to use.  With some guidance and direction on equipment etiquette, I've finally been able to turn my older two boys loose, using it when interested.  My 6.5 year old still needs to ask me to come help.  Since my baby girl is 3 now and not as rowdy or unpredictable as my boys were, I've actually put it out on display so the boys have easy access to it.  In that first drawer below the microscope is where I keep all of our slides, magnifying glasses and preparation equipment.
All-in-one Slide Making Kit – This fabulous kit has all your non-high school aged child needs to get started with free-exploration on the microscope.
36 prepared specimens If you are looking for simply some specimen slides this is a great option that would encourage your child to explore, observe and marvel.(Includes: Acrylic, Aspirin, Bird Feather, Coffee, Cola, Corn, Cotton, EVA Foam, Fish Scale, French Bean, Gills Mushroom, Glucose, Grasshopper, Abdomen, Grasshopper, Leg, Grasshopper, Wing, Green, Seaweed, Kelp, Algae, Microfiche (3), Nylon, Penicillin, PM Foam, Polyester, PS Foam, Rice, Silk, Snake Scale, Stem Toadstool, Tea, Vitamin B2, Vitamin C, Vitamin D, Wood Fungus and Wool.)
72 Blank Microscope Slides + 100 coverslips – If you have the child who is a prolific explorer and will want to create lots of slides, you might want to order this set in addition to the
If you want a simpler microscope, than this All-in-one Kids Microscope Kit might be a good fit.  Everything your elementary students will need to explore the microscopic world is conveniently located in this case! The one I had as a girl was similar to this kit and it worked well for our family.
Dissection Microscope
I have my eye on this one: AmScope SE305R-PZ 10x-20x-30x-60x Binocular Dissection Microscope.
Books to Pair with Your Microscope!
Greg's Microscope.  We adore this little book.  When I first set up my microscope station, I checked this out from the library.  Within hours of arriving home, my oldest had quickly read through it and was begging to try some of the experiments that Greg had tried with his microscope.  He spent the next hour inspecting salt and sugar in original form, as it dissolved when a drop of water was added and then later that day when the slide had dried out and somewhat re-crystalized.  He was hooked.  I've now added that book to our personal library.
The Ultimate Guide to Your Microscope – I loved the simplicity and detail that this book contained.  It is set up in a very easy to follow, uncluttered format.  It teaches you the parts of your microscope, their function, and how to care for your microscope.  And then there are a whole bunch of experiments that you can use to get you started.  It is perfect if you end up with either a DISSECTING microscope or the COMPOUND microscope.
Another great book to add would be The World of the Microscope.  It is perfect for the elementary/junior high years.  Micro Monsters is a fascinating book that will engage your children as well.
~ ~ ~ ~ ~ ~ ~ ~ ~ ~ ~ ~ ~ ~ ~ ~ ~ ~
Want to follow along so you don't miss a single post in this 31 days of gift ideas that will inspire learning?  Enter your email address below. {Your privacy matters.  Emails are never sold and only used to receive blog post updates.}