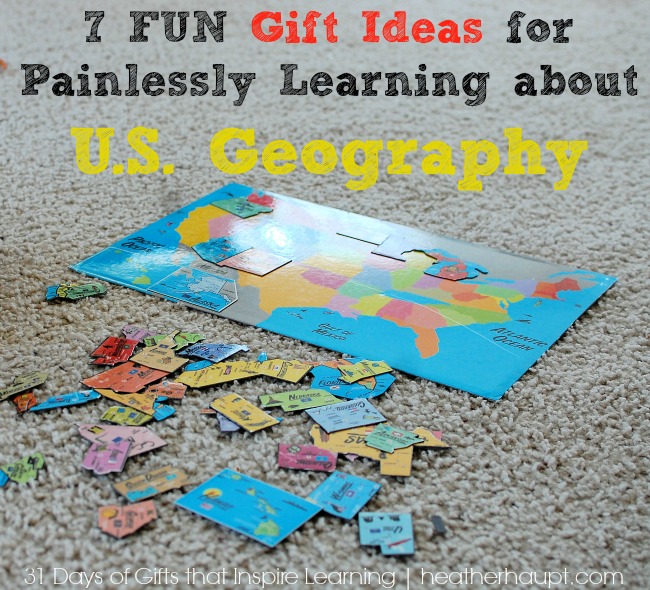 Knowledge enriches our lives.  Learning about interesting things not only is a delight to experience, but also sets the stage for a more enjoyable life. The more we know, the more meaningful connections we are able to make the next time we come across a piece of information.  Having an understanding of geography plays a key role. When a city, state or country is mentioned, it is helpful if we already have a context in which to place a new nugget of information.
Our family is getting ready to spend the spring traveling around the good ol' U.S.A. – metaphorically, of course.  I can't wait to introduce my kids to the unique things that mark each region of our country as we explore bits and pieces of its history, landmarks, foods (yum!), and traditions.  I know that as they learn what major cities go with each state and information about these regions that it will enhance future encounters they have with these regions.
But they certainly aren't going into our upcoming semester without any prior exposure.  My kids have poured over our magnetic U.S. puzzle.  They've asked questions and sought out answers to some of their questions.  Next semester we'll just be taking it up a notch or two, or five.  My point is that learning geography is not a one time event; it is one we continue to revisit.
So like I did yesterday with some world geography recommendations, here are a few fun gifts to give your children that will start or continue to give them a strong foundation in understanding U.S. geography!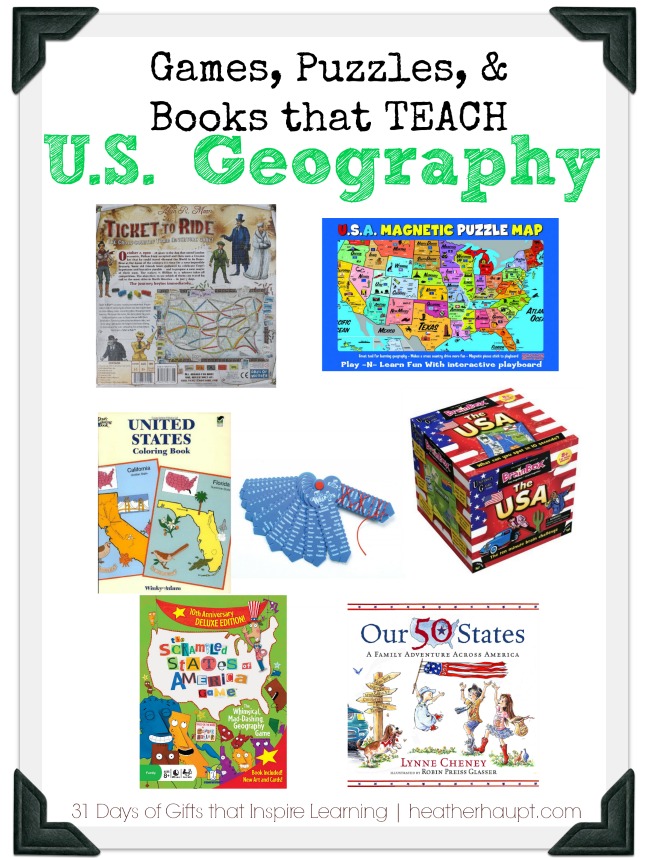 Ticket to Ride – We are huge fans of Ticket to Ride.  Anyone else? It's a fun strategy game with a little bit of geography thrown in for some painless learning.  While the USA version utilizes current city names, the Europe and Asia versions use antiquated names.  For an older kid it could be a fun history/geography lesson to figure out the modern-day name of that city.  It's primary focus is not to teach geography, but that tends to be the end result, especially in the US/Canada version.
BrainBox – USA version – This is a fun memory testing game where you inspect a state card for 10 seconds before turning the card over and answering questions.  My boys would be all over this!
The Scrambled States of America Game – I've never heard about this, but when I see hundreds of 5 star reviews, I perk up. This game provides a fun way to enrich basic knowledge of U.S. geography. Players learn the names, capitals, nicknames, shapes and positions of the states through a myriad of visual teasers, language riddles and geography challenges. After playing, you'll see that there's more to the 50 States than meets the eye!
States and Capitals Wrap-Ups – I had some math wrap-ups as a kid and we loved them.  I picked up a second-hand set of multiplication wrap-ups and it's been a hit over here.  This set gives kids a self-checking way to practice pairing states and capitals as well as states with abbreviations.  I could use that as I always get confused with all of the "M" states and their abbreviations…
Magnetic Puzzle – We love this puzzle. Of course, living here in the Sonoran desert, my only bone to pick with it is that they show a saguaro cactus in Nevada.  Saguaro cactus are only found native in the Sonoran desert (Arizona and Mexico). But even Greta, at 3 was playing with it today and the boys were getting excited and pointing out two states that I'll be speaking in this next year.  They were especially excited because we are hoping to bring them with us to one of them…
United States Coloring Book  – This is a great coloring book that has interesting information for each state.
Our 50 States – This book follows a family as they travel around the U.S.A.  It is jammed packed with all kinds of fascinating tidbits. It is an amazing book; the kind of book that you want to add to your permanent collection and pull out to peruse periodically.