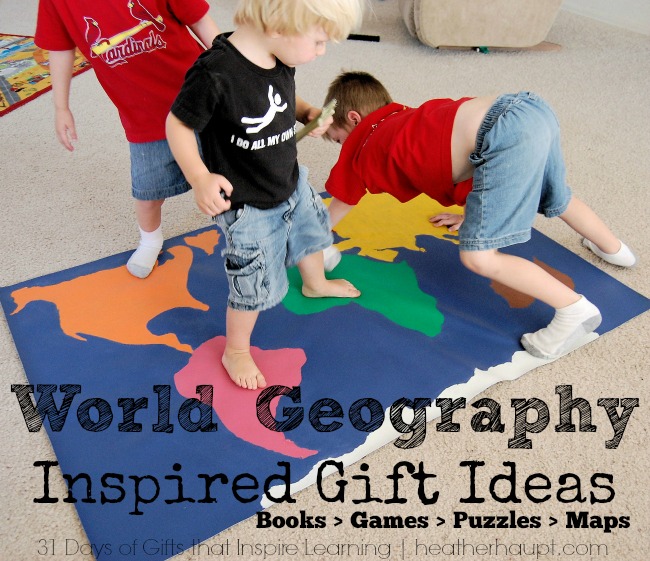 The study of geography forms the base layer of understanding that lends perspective to history, earth science, nature studies, politics, economics and so much more. We have the opportunity to give our kids a gift in understanding world geography.  It matters.
I remember learning about the pilgrims coming over to America and trying to explain that to my young boys for the first time.  They gave me blank looks.  Understanding where we live and our place in the world is important. They needed an impromptu lesson in geography.  And you know what, it isn't a one-time learning event.  It is a topic that we can circle back to time and time again as we learn more and more about the world around us.  A child who understands world geography enjoys learning about everything else even more because there is context.  That's why I like to periodically give my kids a geography tool or game!
And the beautiful thing is that this doesn't have to be a boring exercise in rote memory.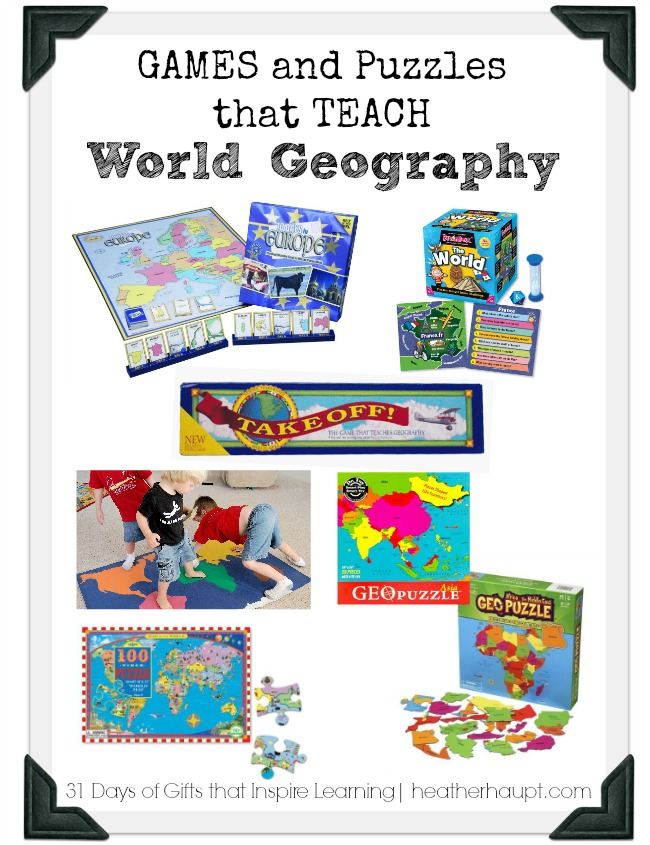 This post may contain affiliate links.
World Geography Games
BrainBox – All Around the World  ~ A fun way to learn world geography and fun facts about various countries, including capitol's, famous landmarks, animals, etc…
10 Days in Europe – I adore the idea of learning geography through games and this one looks like a lot of fun.  You have to map out a 10 day trip in Europe.  There are transportation cards which you can use if you aren't traveling to adjacent countries.  I love the way this gets you thinking creatively about country locations compared to one another.  I'm thinking I might actually be able to pinpoint Latvia or Estonia on a map once we've played this game a few times.  As a family that loves to play games, I'd love to pick up this one and the Asia or African version.  There is also an Americas version and a U.S. States version as well!
Global Twister – Are you the do-it-yourself type?  When we first learned about world geography, I made my own vinyl world map.  We pull it out all of the time to play and explore with.  I have the tutorial here if you want to make your children a gift that will last for a while.  We play "twister" with it by calling out continents and oceans to be paired with certain limbs.  It's been a great hit over here!
Take Off!  We love this game.  It is old and although some of the countries are a little out of date, the learning value is amazing.  The purpose of this game is to get your airplanes around the world before your opponents.  You roll colored dice which determine what colored flights you may take.  And then there are "Take Off" cards where you get to fly to the country that matches the flag.  It is a great way to learn what flags, capitol cities and countries all go together.  As you locate a flag on the board, it is situated with flags from surrounding countries, so you use those as clues to locate a country that you may not recognize.  It is not available new, but you can still find copies on Ebay!
World Geography Puzzles
GEO Puzzles Europe, Africa/Middle East, Asia, Latin America, U.S./Canada or a world map  or if you know you want all 6, you can save on money and space by buying 6 in one box.  Each puzzle is in its own resealable bag!  As a big fan of puzzles, but not a big fan of storing them, I love this option!
World Map Floor Puzzle – For my younger kids, I love these giant floor puzzles that match landmarks, animals, etc with world geography!
Maps
"If geography is prose, maps are iconography." -Lennart Meri
Maps are powerful.  We love to have maps up around our home.
You can pick up laminated "place mat" maps at Walmart which might make a fun simple gift.
We bought this U.S map + World Map and love them.  I've found the boys over there just studying the map for fun!
Globe – Every family can benefit from having a globe in their home.  We grab it all the time when things come up during the Olympics, on the news, in a book we are reading.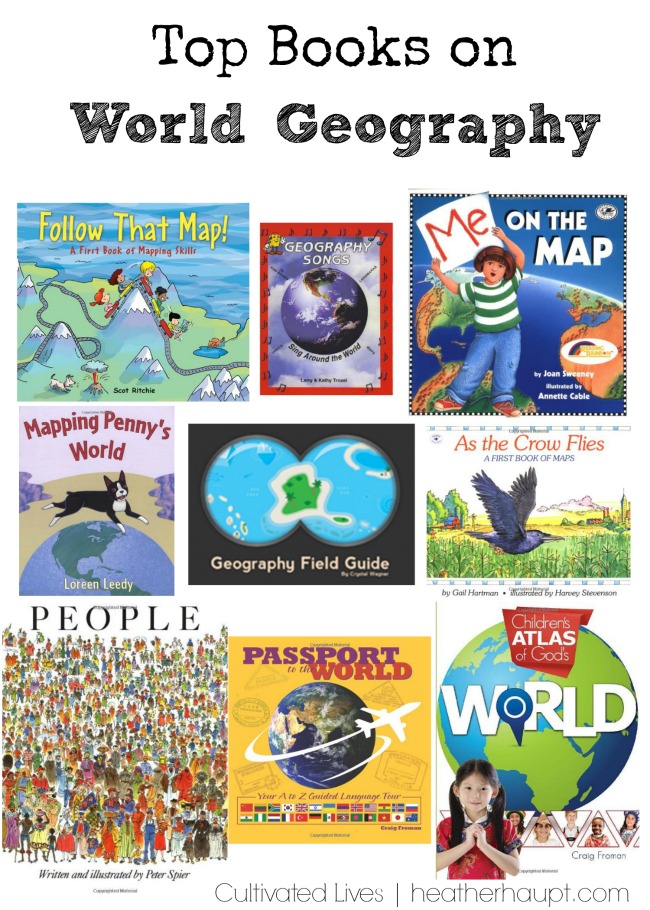 Books:
Me on the Map – I love this one for the 7 and under crowd.  It is a great resource to help them connect where THEY are with maps and in this world of ours…
Follow That Map!: A First Book of Mapping Skills – This is another favorite of mine that introduces kids to reading maps.
As Far as the Crow Flies – This book is a simple and beautiful look at using natural features to create maps.
Mapping Penny's World – Another favorite in our home that helps build map-making skills.
Geography Songs – This is an mp3 file, so I don't know how you'd "give" it as a gift, but it was too cool to not include.  We are huge fans of Grammar Songs and I'm hoping to add this to our collection before the spring.
Geography Field Guide – We ADORE this field guide.  It is a perfect size for tucking into a bag as you go out to explore and includes a description of lots of key geographical features such as the difference between a fjord and an estuary, an explanation of cloud types, or what an isthmus is which really helps our kids as they study these features on our maps!


PEOPLE – Where do I even start with this?  My sister gave one of the boys this book while we were staying at a cabin one summer.  I could not believe how captivated all of the kids were with this book.  It is still a favorite that gets pulled out and poured over during quiet rest time (because nap time never ends at our home!).  I love all of Peter Spier's books, but I think this would be my absolute favorite. Someday, when I finally finish writing out my kindergarten geography curriculum, I want to include this book.  It is that good.
Children's Atlas of God's World – This is a beautiful one-of-a-kind children's atlas to explore God's world.  We love all of the interesting tidbits.  The Christian history and heritage section about different parts of the world really sets this book apart from anything you'd find at the library.  I'm thankful we picked it up at a homeschool convention last year!
Passport to the World: Your A to Z Guided Language Tour – This book takes you on a world tour as you explore customs and cultures around the world.  It is another favorite geography resource that I love to have for my older elementary kids!