Sunlight streamed in my bedroom window as I lay sprawled across my bed, listening to music and reading a biography about one of my favorite musicians, Beethoven.  I was getting ready to write a report and there was actually a smile teasing at the corners of my mouth.  You see, I hated writing as a girl and my mom was forever looking for ways to help me hone and improve this important skill.  She had covertly floated the idea that my piano teacher should require a report from me.  As my beloved teacher issued the assignment, I beamed with excitement.  Not because I had any love for writing, but a love for music.  The idea of understanding this brooding, mysterious man intrigued me.
Those years of exposing us to classical music and biographies of famous composers had piqued the interest of this girl who had an aversion to writing, prompting her to delve into researching and crafting the perfect paper to represent Beethoven's life.
Listening to and having a foundational understanding of music history not only enriches our lives, but it is good for our brain, too!   But this doesn't just happen with a brief or even extended one-time study of music history.  It is developed and grown over time.  So today, as I continue on with my 31 Days of Gifts that Inspire Learning series, I want to give you some ideas to encourage music appreciation and learning about music history.
Early Childhood Music Gift Ideas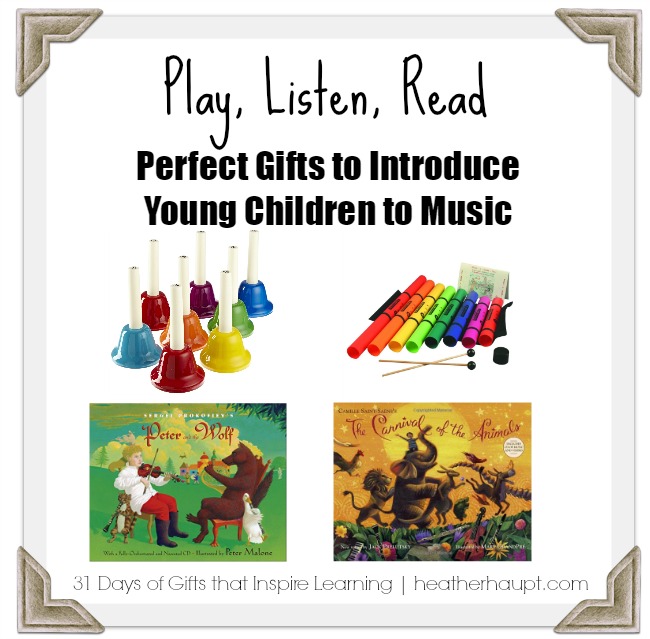 Rhythm Band 8 Note Metal Hand Bells + 8 Note Bells SongBook + Carrying Case
My niece owns these and they are not only beautiful to look at, but they are easy to play and have excellent tone.  This would be a fun way to engage in musical exploration.
Boomwhackers -I was so close to purchasing these when I spoke at the CHAP convention in Pennsylvania this last year.  There was a musical instrument booth next to me and I became enthralled with this musical item.  You can strike them with one of the mallets provided, or simply wack them against your leg – hence the name.  I can only imagine how much my busy, active boys would love making music this way.  This kit comes with a song book, 8 tubes, a carrying case and a cap to help change tone.
Peter and the Wolf (Book and CD) – This musical piece is perfect for introducing children to the world of music appreciation.  It is fun to discuss why various instruments were selected to represent the characters in the story and the moods that the music induces.
The Carnival of the Animals (Book and CD)
 – Another great first introduction to the art of music appreciation.  The engaging text blends perfectly with the music.  The CD contains the text, read along with the matching music selection and then a full recording of Carnival of the Animals without the narration.
Audio Music History Gift Ideas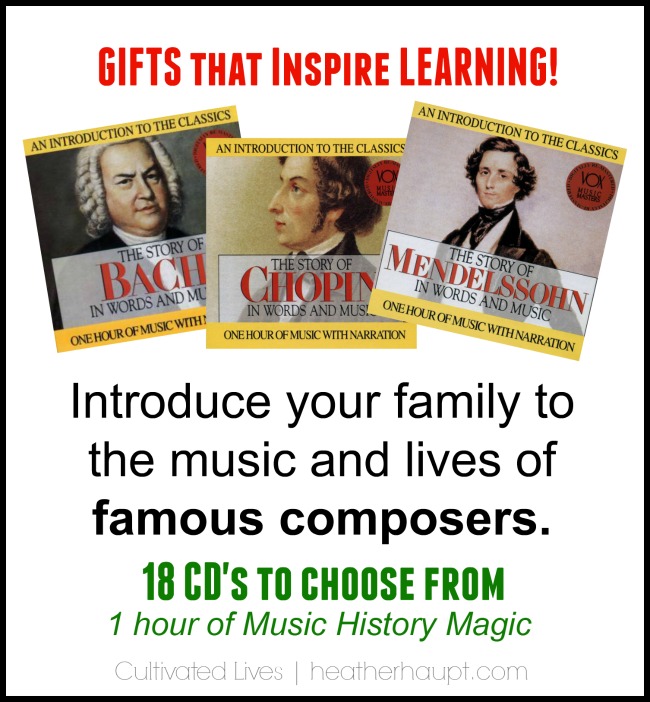 Music Masters: An Introduction to the Classics Series – I loved these biographies as a girl.  We listened to them on family road trips as well as when we were out running errands.  They provide a great overview of each famous composer and exposes you to their music.  It was an essential component in our music appreciation education.  Because they are stories and so fun to listen to, they would make great gifts!  I plan to give my 6.5 year old a composer each week to focus on in the spring and let him listen to these CD's up in his room while I'm getting stuff done with the other two!  You can buy the full set, or buy them individually.  Either way, they are a great deal.  I tend to buy the full set and then give them out over time as gifts, unless we are doing an in-depth music study.  As you listen to each CD biography, you can stream music from that composer to enhance the experience!
The Story of Bach in Words and Music

The Story of Beethoven in Words and Music

The Story of Berlioz in Words and Music

The Story of Brahms in Words and Music

The Story of Chopin in Words and Music

The Story of Dvorak in Words and Music

The Stories of Foster & Sousa in Words and Music

The Story of Handel in Words and Music

The Story of Haydn in Words and Music

The Story of Mendelssohn In Words And Music

The Story of Mozart in Words and Music

The Story of Schubert in Words and Music

The Story of Schumann & Grieg in Words and Music

The Story of Johann Strauss in Words and Music

The Story of Tchaikovsky in Words and Music

The Story of Verdi in Words and Music

The Stories of Vivaldi & Corelli in Words and Music

The Story of Wagner in Words and Music
oh my, listing all of these has given me a hankering to set up a schedule for doing this with my third-born in the Spring.  We just bought a CD player for their room and we're going to pick a composer a week and let him listen to these up in his room while I work with the bigger boys!
Engaging Composer Biographies

I love these picture book biographies that are both beautifully written and well-illustrated.
Opal Wheeler Composer Biographies ~ My friend who teaches music classes in her home raved about these and let me borrow one.  Opal Wheeler wrote these engaging biography chapter books back in the 1940's.  They are back in print and would make a wonderful addition to your home library.  If you have an older child who loves to read biographies and/or loves music, these would be perfect.
Amazing Picture Books You Might Want to Own
Magic Flute – Opera, anyone? My mom owns this beautiful picture book and we've checked it out from "Oma's Library" several times.  I love this captivating picture book that has a CD with accompanying music.
Can You Hear It? (book+CD)
 << This book is put out by the Metropolitan Museum of Art and pairs famous classical pieces of music with art from their collection.   It is like an "I Spy" type of book, but of the listening variety! We LOVE this book.  It inspired a post on Music+Art+Movement=Love several years ago.
Story of the Orchestra : Listen While You Learn About the Instruments, the Music and the Composers Who Wrote the Music!
Zin! Zin! Zin! A Violin << Another favorite in our home.  The lyrical prose and lively illustrations will have your children begging to read it again and again.
To check out the whole series: