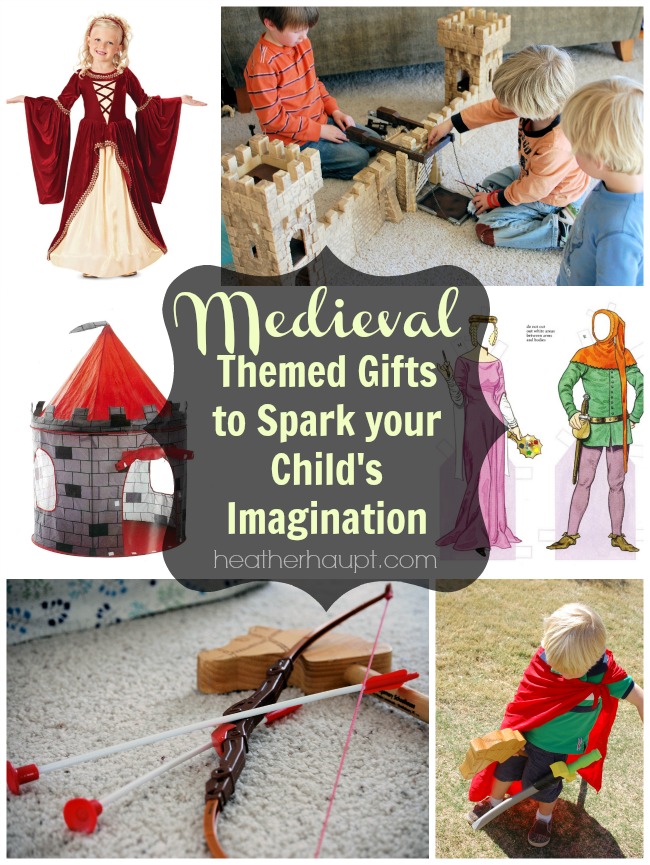 This post may contain affiliate links.
Oh the middle ages… What kid hasn't fallen under the spell of this mesmerizing period in history. It is alluring for boys and girls alike. Today for my first themed gift guide, I want to share some ideas of some amazing gifts that will capitalize on their interest in or pursuit of learning about this period in history.
First off…  Medieval Costumes for Kids.  Costumes enable your child to transport into that period of history.  Kids don't NEED costumes.  All they really need is an active imagination, but I've found that a few key costume pieces and accessories can pack a powerful punch and make for great gifts!  I usually try to get one or two items that are specific to that time in history and then also find items that can be used for other historical periods as well.  As this series progresses, you'll notice overlap of some of my favorite items!
Gift Ideas for Your Knight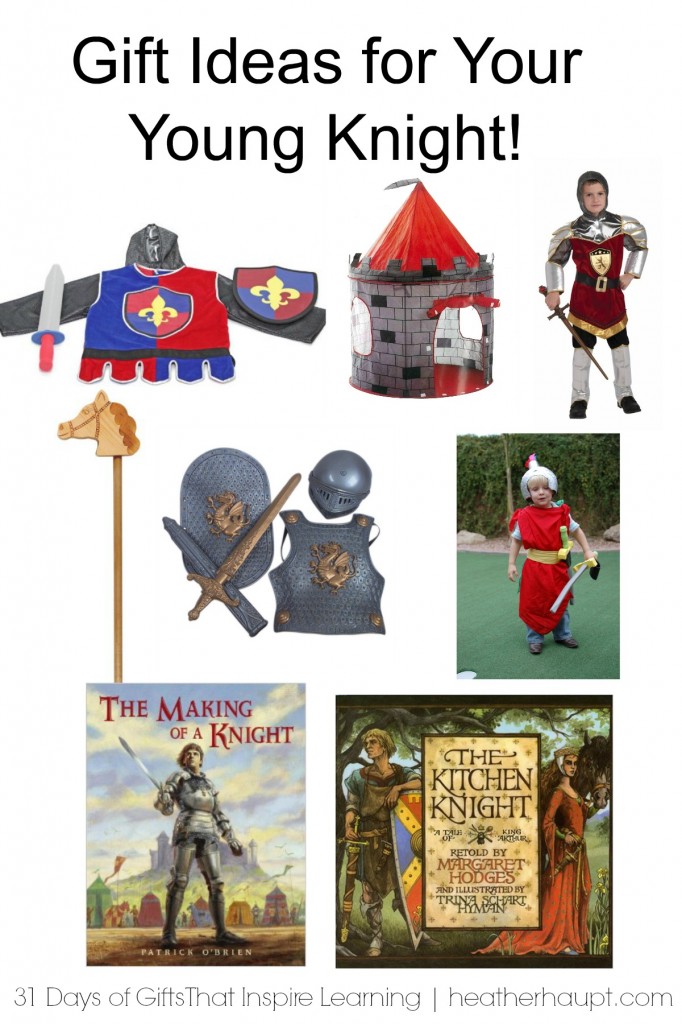 I have three boys. Battles, bravery and chivalry captivated their attention long after we first delved into this period of history in our studies. Part of that is because it is just a fascinating period of history and part of it is because I was strategic in gathering some amazing gift ideas for them.
Knight costume – this Melissa & Doug outfit is fabulous.  My nephew has it and loves it.   This knight costume comes in S, M, and L, making it easy to buy for your little or your big guy! Costco also carries some great knight costumes at this time of year.
Knight Armor Set – We have three of these sets and my 10 year old still squeezes into it for battles!  They've used it when we learned about the Armor of God, morphing it into a Roman soldiers garb.
Playsilks – we love playsilks.  I've waxed eloquent on them before.  We use them for all kinds of things.  With three playsilks, you have a knights costume – front/back and belt! They also make for great capes that boys and girls both love!  If you don't own any playsilks, I highly recommend you remedy that, pronto!  We love the 100% silk playsilks, but you can also get a beautiful polyester playsilk set for less.
Foam Swords – I'm partial to form swords and yes, I buy them in bulk.  They don't last forever, but it is impossible for the kids to hurt each other with them.  Occasionally you can find these at the Dollar store or in the dollar bin at Target.
Castle Tent – This pop-up castle tower tent is amazing.  It's always a hit with both boys and girls.  I love that it is easy to take down and store flat!
The Making of a Knight – A captivating book that follows a young boy through the process to becoming a knight
Kitchen Knight  – This is one of my all-time favorite illustrators.  The story will inspire your boys to chivarly and brave deeds.  If your kids are anything like mine, they'll want to pour over this book again and again.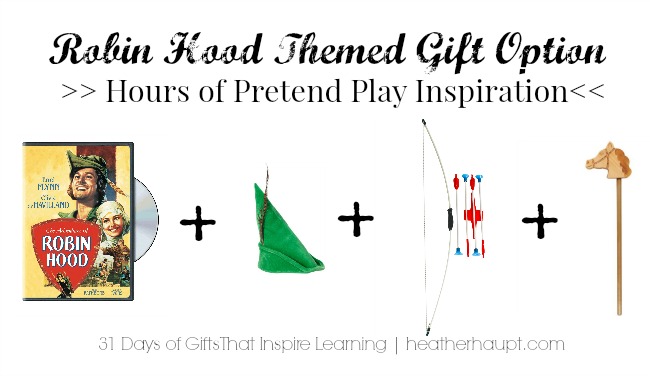 Robin Hood DVD w/ Errol Flynn – a "must-watch" for boys and girls alike!
Bow & Arrow Set – What is a knight or Robin Hood without his bow and Arrow.  You do have to be careful with these and they tend to break after a while, but my boys will play with the bow even long after the arrows have all snapped.  I did call the company and they sent me out a replacement set of arrow free of charge a few years back.
Robin Hood Hat – Your kids don't necessarily need a full costume.  Sometimes a simple hat is enough to do the trick.  My boys have used their hat for Robin Hood play, Peter Pan and for dramatizing the life of William Tell!
Stick Horse – This wooden horse is a staple in our house.  We own three of them and they've withstood countless hours of rough boy play.  I had my concerns when my mom first gave these to my boys.  I had visions of them turning them into weapons.  In the 4-5 years that we've owned them, I'm proud to say no one has been clubbed with these wooden stick horses.  These are a true gem.
Imaginative play is the place where a child's information acquisition comes to life and is cemented into long-term memory.  Any time we can engage the imagination our children cement into working memory all of the wonderful things they are learning about.  Another toy that accomplishes this in a beautiful way are toy castles.  There are so many options out there and tomorrow I plan to give you a castle comparison of the best castle sets on the market.
Gift Ideas for Your Princess
Boys aren't the only one's enthralled with this period of history. As the oldest of three girls, we adored studying this period of history. The books available, the idea of princesses and kingdoms, beautiful calligraphy and side-saddle horse riding captured our attention. And the dresses…. Oh the dresses.
As girls, we loved watching Errol Flynn's Robin Hood and feasted on the many outfits of Maid Marrian as we tried to fashion our own from our dress-up collection. Of course, my boys also love the movie, but for the adventure aspects because they could care less what Maid What's Her Name is wearing…
It's time for Dress-Up!
Here are some beautiful dresses to consider: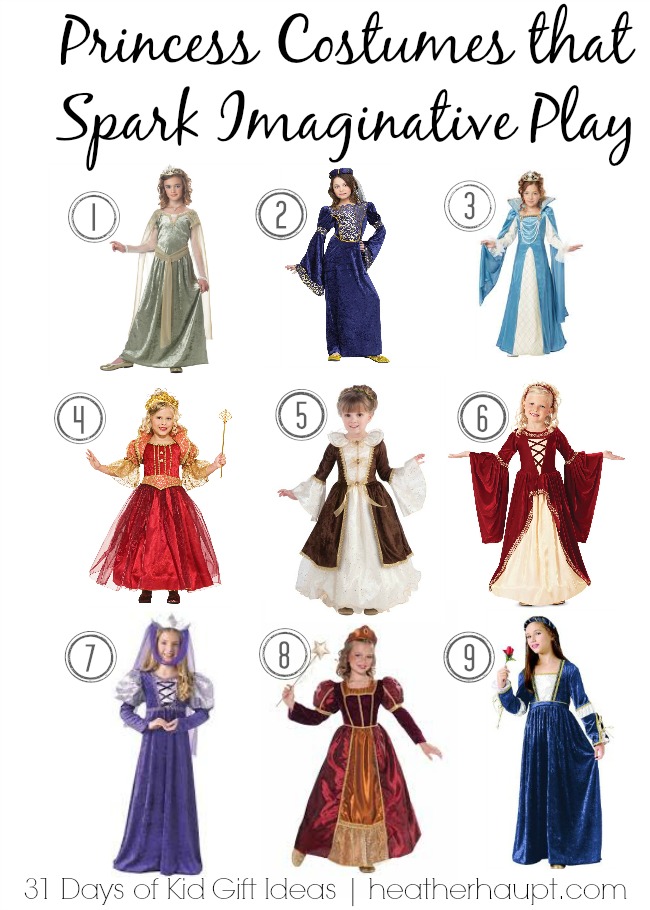 1. Guinevere Costume
2.. Renaissance Maiden Costume
3. Renaissance Queen Costume
4. Renaissance Damsel Dress
5. Pretty Maiden Dress
6. Crimson Princess Costume
7. Purple Renaissance Queen Costume
8. Enchanted Princess Costume
9. Panne Velvet Costume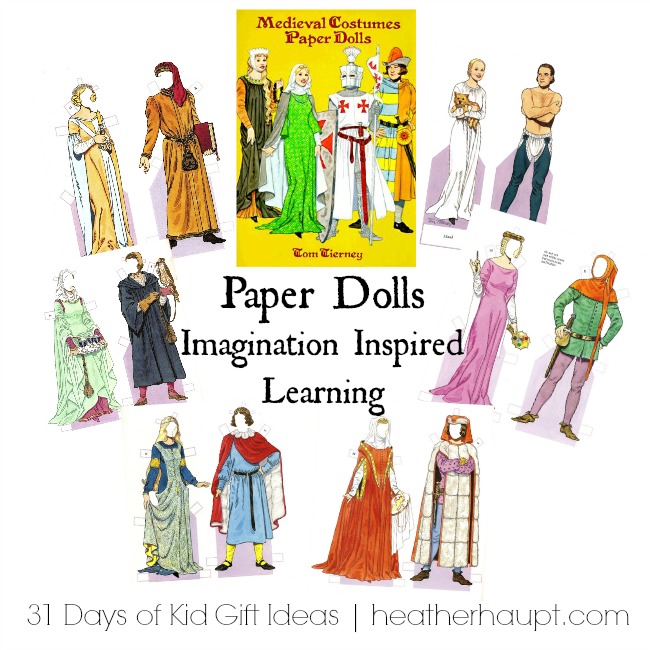 Did any of you ever play with paper dolls when you were young?  My sister's and I spent hours playing with paper dolls and the Dover Historical Paper Dolls were our favorites! A great way to explore the customs and dress of the medieval ages in a fun and painless way would be to get your daughter a set of these Medieval Costumes Paper Dolls.  The details are exquisite and the imaginative play options are endless!
Do you have a child who would love to learn the medival art of caligraphy and illustration?  This combination would inspire her and equip her.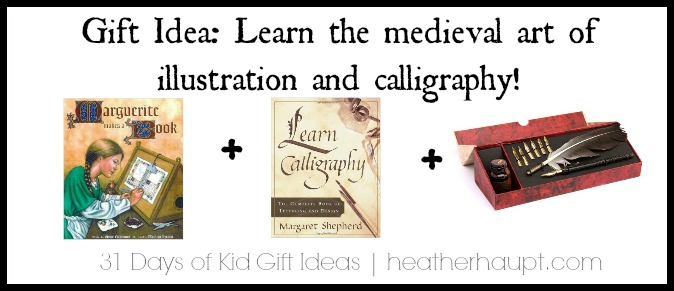 Marguerite Makes a Book – This luciously illustrated book gives you a peek into the process of illuminating manuscripts.
Quill Writing Set
Learn Caligraphy: The Complete Book of Lettering and Design
Whew.  Tomorrow I'll give you a tour of some fabulous toy castles as we round out our exploration of gift ideas for the Middle Ages.
Here are a few blog posts from our medieval adventures:
Knights-in-the-Making
Knights-in-Training {free chivalry printable}
10 Adventure Books to Inspire a Boy's Faith
Want to follow along so you don't miss a single post in this 31 days of gift ideas that will inspire learning?  Enter your email address below. {Your privacy matters.  Emails are never sold and only used to receive blog post updates.}