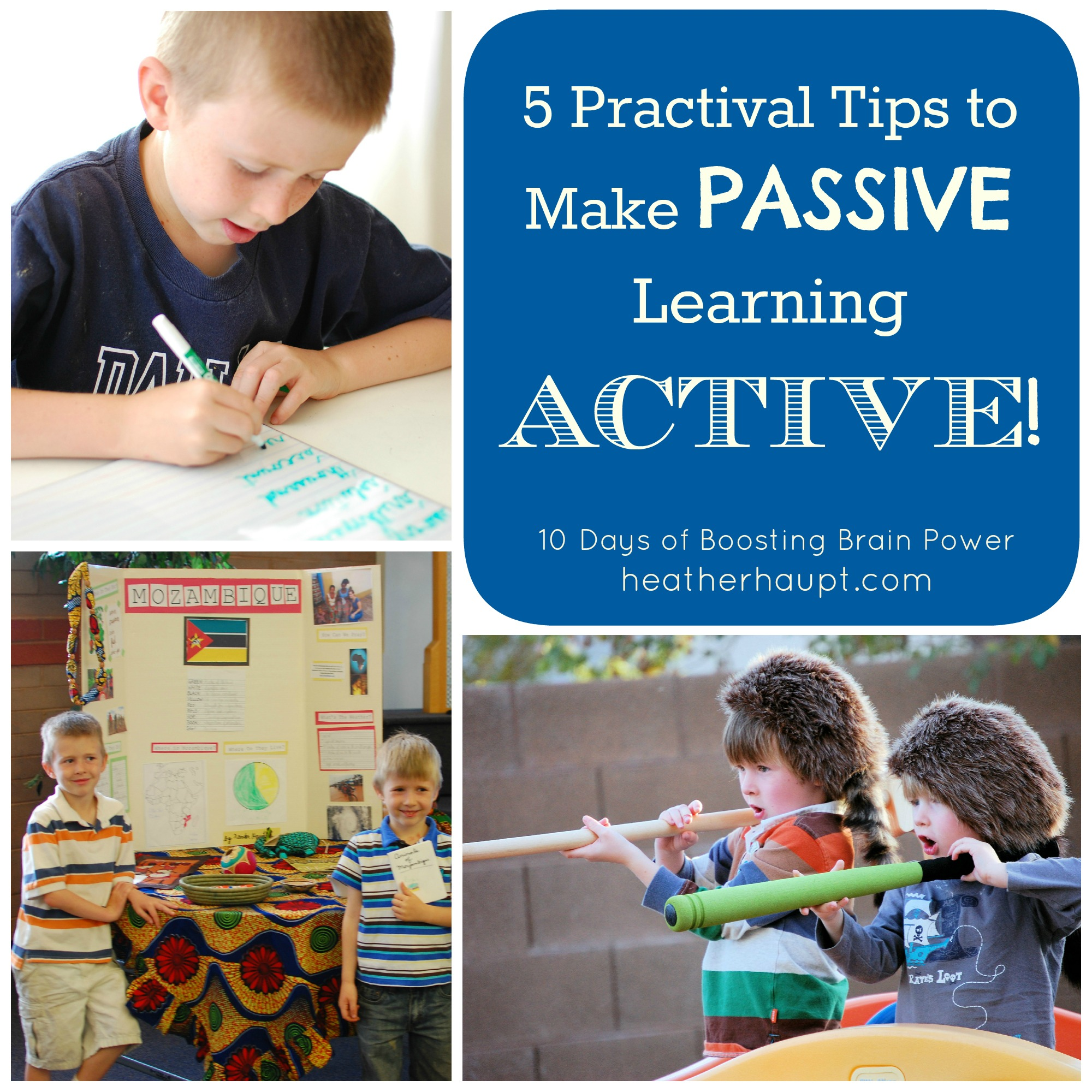 Whew! We made it to day 10 of this series on Boosting Brain Power. Are you still with me??? We careened through some of the basic necessities for brain boosting: water/nutrition, sleep and exercise. Then we explored the magic of movement and why multi-sensory learning is so vital. I shared how important music and active, rough and tumble play is and how harmful too much screen-time can be. You stuck with me though that one and then went crazy over the Brain Breaks that I shared.
One of the benefits of homeschooling is that we don't have to stick to the traditional school model of learning. We have the flexibility to break free from the school mold and embrace a home where we learn. We can embrace this kind of multi-sensory, experience rich environment.  A few years ago I wrote about experiential learning and the famous research by Edgar Dale showing the rates of retention with various types of learning. Here's how it breaks down.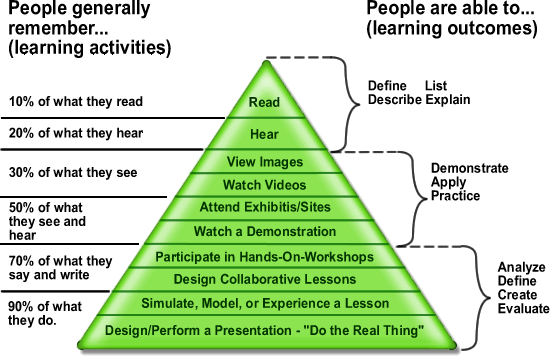 The more involved a child becomes with the process, the more they learn.  We want to embrace an active approach. So for this last day in my 10 day series, I'm going to share with you 5 ways to convert passive learning into active learning…
Standing Instead of Sitting ~ Remember how I wrote about the importance of movement. Look for opportunities to learn 'standing up'. You could take your kids for a walk and review what you learned that day. I know for me as a girl growing up, I needed to march around the kitchen table reciting my multiplication tables. 2×2 is 4, 2×3 is 6, and so on… Getting my body moving enabled my muscle memory to kick in and remember those previously allusive facts. I've taken to this same technique with Xander recently and it works!
Talking vs. Merely Watching ~ We want to encourage our children to 'be the teacher' and explain what they've learned to you, their little sister, dad when he gets home, a grandparent via Skype or in a co-op situation. Encourage a home where dialogue is valued. It keeps the brain engaged and fosters critical thinking. If your child starts to get squirrelly, have them stand up and give a 'speech.'
Writing in Addition to Reading ~ Taking notes and encouraging our children to extract meaning from what they are reading about helps make meaningful and lasting connections in the brain. The information will stick so much more than if they had merely listened to or read material. Teach your children to take notes!
Project-Based Approach ~ Give them a problem to solve and encourage collaboration either with you, a sibling or a homeschool friend. This activates critical thinking and movement helps solidify and bring to fruition the 'information' that your child has acquired. The possibilities are numerous. One of my favorite projects was when my sister and I pulled together an Egyptian feast for our girlfriends. We planned the menu, the décor (trying to make it feel as authentic as possible), a skit and other aspects. It was a great culmination of our semester long study of ancient Egypt. Another example is beautifully depicted in the movie, Dolphin Tale. Did you see it last year when it came out? I love how the boy goes from being uninterested in just about everything to becoming fascinated with helping to rehabilitate the dolphin. This pursuit had so many educational benefits and most importantly woke up his God-given desire to know, understand and learn about the world around him! I'm intrigued to read this book on Project Based Homeschooling…
Imaginative Play ~ This is the apex of learning and an area where homeschooling gives an edge! Instead of wasting time standing in line, going from class to class or waiting for the next assignment to be handed out, we can give our children time to PLAY. Play incorporates movement, emotion and information as they use their imaginations to act upon what they've learned!  It's so important, I've written about how it affects creativity, how to maximize open-ended play, how it lays a foundation for deep understanding.  It's important, so make time for it!
I hope you have found this helpful.  It is inspiring to see how simple it can be to embrace a natural life-style of learning and promote brain boosting opportunities at the same time!

use the coupon code "MOVE"  for 20% off my ebook!