During our traipsing through the middle ages and our study of kings, knights, chivalry, etc, I was reminded of this wonderful quote from Charlotte Mason:
"The Essence of Christianity is Loyalty to a Person –Christ, our King. Here is a thought to unseal the fountains of love and loyalty, the treasures of faith and imagination, bound up in the child. The very essence of Christianity is personal loyalty, passionate loyalty to our adorable Chief. We have laid other foundations – regeneration, sacraments, justification, works, faith, the Bible – any of which, however necessary to salvation in its due place and proportion, may become a religion about Christ and without Christ. And now a time of sifting has come upon us, and thoughtful people decline to know anything about our religious systems, they write down all our orthodox beliefs as things not knowable. Perhaps this may be because, in thinking much of our salvation, we have put out of sight our King… Let us save Christianity for our children by bringing them into allegiance to Christ the King."
She goes on to say,
"The indwelling of Christ is a thought particularly fit for the children, because their large faith does not stumble at the mystery, their imagination leaps readily to the marvel, that the King Himself should inherit a little child's heart."
As we wrap up this unit, this thought has been at the forefront of my mind.  I'm raising modern-day knights who will fight for what is right and I pray serve Jesus, their King with passion and loyalty because THAT is the grandest of adventures.
I'm so grateful for the responsibility and privilege I've been given in these three little boys of mine!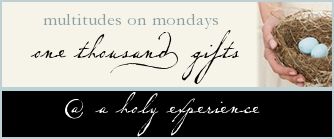 635. motherhood
636. a husband to enthusiastically partner with me on this journey of parenthood
637. three unique, endearing little boys
638. grace continually poured out in my life.
639. hearing my son belt out songs in worship of His King!
640. discovering gifts in the difficulties of life
641. Ann's excellent post on the gift of being moved outside one's comfort zone.
642. "… the gift of losing our earthly security and comfort? So that we can unwrap the intimacy of the Savior and His Heavenly Comfort"
643. the stillness at dusk
644. wispy clouds
645. big skies
646. beautiful sunsets
647. rare opportunity for a solo evening walk
648. birds chirping
649. special mornings with my family
650. the smell of freshly baked cinnamon rolls
651. fellowship with sweet, wonderful fellow-mothers.
652. cuddle time with my boys
653. 'snowball' like hail – a rare desert treat.
654. having an impromptu 'snowball' fight!
655. little boy squeals as they are pelted and pelt others with these little puffballs.
656. late night whispered conversations with hubby
657. boys 'peacefully' playing