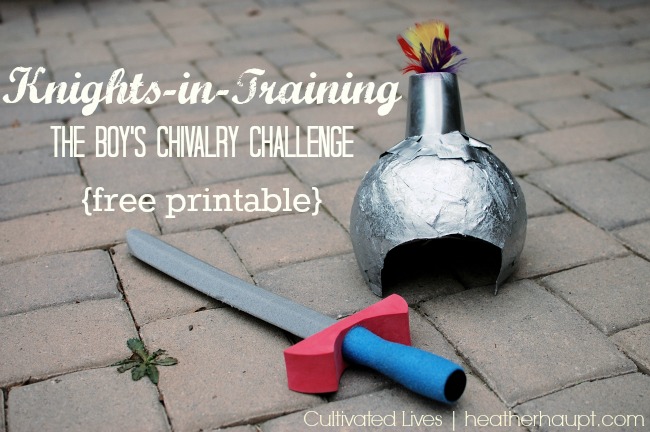 My book, Knights in Training, inspired from this foray into the realm of chivalry released on May 30th, 2017! Find out more about the book HERE! 
A couple of months ago, a reporter from the New York Times contacted me because of a free printable I offered. She wanted to interview me for a piece she was writing on chivalry and manners.  That article finally came out today which of course had me thinking with fond memories again of that season nearly 5 years ago when we embarked on Knight-Training.  I'm thinking about pulling it out again, especially since Trey missed out on it last time around.
We live in a day and age where our culture is anything but civil.  It doesn't take more than 10 minutes on Facebook or even less time at a school recess yard to recognize that.  As parents, however, we have the power to shape the culture of our home.  We can set an example in how to show care and respect for others.
Years ago, when we were learning about the Middle Ages, I read up on chivalry.  What I learned surprised me.  I had always thought of chivalry as merely how a man treats a women.  But it is far more than that.  It was an entire code of conduct.  As my boys waged imaginary battles all around me, I read and was filled with renewed vision.  I desired to raise these three boys to treat others with respect, to fight for what is right and good, to stand against injustice and evil, to defend those that are weak and protect them.  When the culture at large proceeds to demean women, I wanted to raise strong sons who would show thoughtfulness and care, not only for the women that they encounter each day, but EVERYONE.  I saw an opportunity to inspire my boys to seek to build one another up instead of tearing others down.  In a ME-focused culture, we desired to focus on loving God first and then others.  So as we learned about the history of the middle ages, we delved into character development too.
The deeper we delved, the more inspired they became. They wanted to emulate knights in every way…  So I decided to have them 'train' to become knights.  The training was rigorous (for little boys), including daily running, archery practice, sword fights, stick horse rides to the park (in full armor – you should have seen the curious looks of our neighbors!) to stage mock battles and learn the art of warfare (high ground is a plus), jousting practice, shining my silver (since their
armor consists of cardboard, foam and paper mache
), etc.
But we didn't stop there…  No, I decided in the name of seeking to raise modern-day knights, that I would introduce them to the idea of chivalry!  As I expected, my boys were drawn to this too and so we decided to take some extra time in their knighthood training to include talking about, practicing and rewarding chivalrous behavior!  I was amazed at all of the opportunities they had, even as young boys to implement the code in their own lives.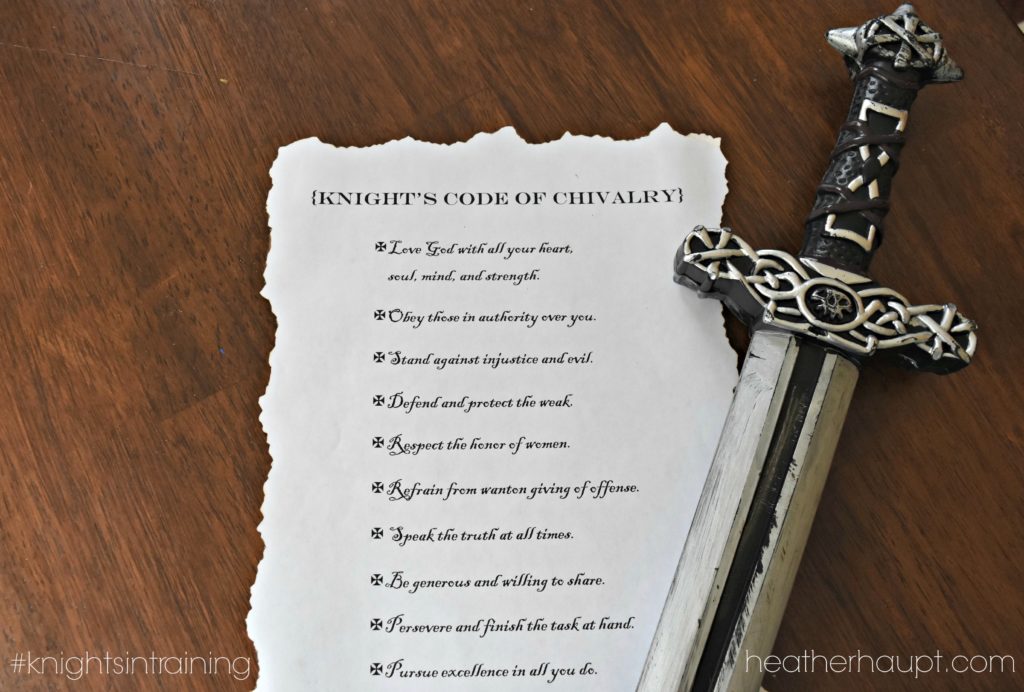 I printed off the list on paper, burned the edges to give it an 'authentic flair' and posted it up so we could review it daily!
My boys were also big chart kids.  They just loved to chart progress and see it visually, so we printed off charts for the two older boys.  Stars were bequeathed when I spotted heroic feats of chivalry!  It was fun to watch them step in and defend their baby brother against 'injustice' (warring other brother), see my boys race out to open the car doors for Aunt B, see the son who has been struggling with lying, fess up and speak the truth (even though it meant facing consequences – a true sign of bravery and strength I told him.), and have boys eager to carry groceries to the car and then into the house!
Even after we moved on from that unit on the middle ages, they were still eager to grow in strength and valor on these areas.
At the end of our unit, we had a dubbing ceremony where the boys were each knighted by the 'king of the house.'  They were quite serious about it all, preparing the throne room and kneeling so reverently.  Even the three year old slowed down from his frenzied running (that is the norm at the end of the day) to watch and participate.
I've come to realize that this training in chivalry is only the beginning.  I pray they will continue to grow in strength, love for the King of kings, defending the weak and taking stands for what is right and true!
If you would like to engage in some Knights Training of your own, I've included the printable Knights Code of Conduct as well as a Chart to mark your progress.  Now that I have a little girl in the picture, I'm going to have to give some thought to how I want to do this with her.
~~~~~~~~~~~~~~~~~~~
~~~~~~~~~~~~~~~~~~~
Related Post: Knights-in-the Making
King Focus
Have you subscribed yet to receive blog updates via email and get access to past freebies?  Enter your email address below. {Your privacy matters.  Emails are never sold and only used to receive blog post updates.}