It seems a bit morbid that several of my themed gift posts have centered around war, but they do have a tendency to shape the course of history and provide a benchmark to place other historical events into context.
Today, I want to give some ideas for inspiring exploration of World War I and II.   This is by no means an exhaustive list, just a couple of ideas that could spark your child's interest in this topic of study.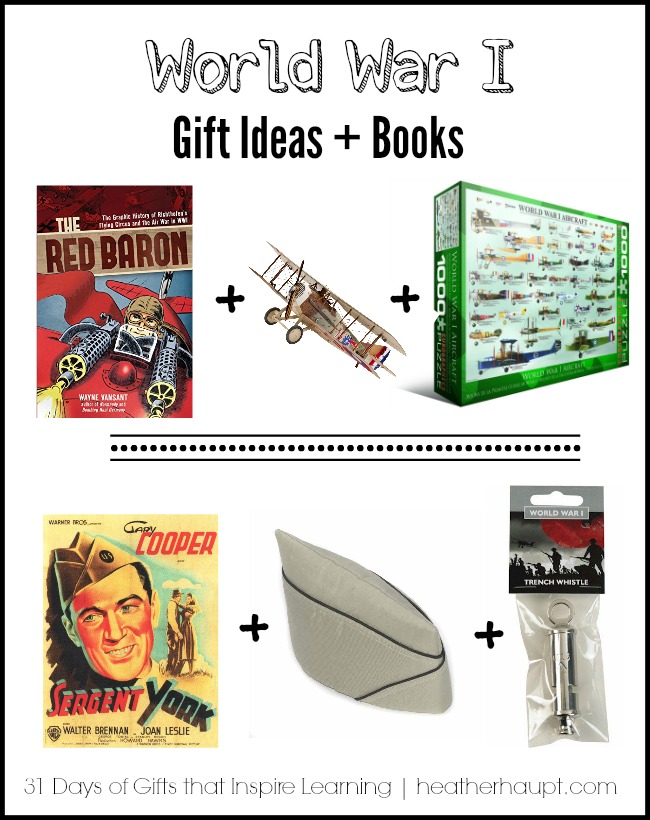 Combination 1
Pair this graphic history about The Red Baron, this model World War 1 Airplane kit (these are complicated, so only if the child is older and likes detail) and then this fabulous World War I Aircraft 1000-Piece Puzzle
.  If they still like to dramatize, an Aviator Hat
 might make for a great addition.
Combination 2
What's not to love about Gary Cooper's movie, Sergeant York.
 I still remember watching it in junior high or highschool for the first time and really thinking through for the first time what the Bible has to say about war, killing and the duty to defend one's country.  I came out of that forever altered.  I bought 3 private caps for the day when I introduce my boys to this movie.  But the timing just hasn't been right.  I want them to be old enough to really think about the various themes in the movie rather than just continue to be star struck with the idea of fighting.   A great gift combination for an older elementary kid on up would be the DVD, a private cap, and a this cool World War 1 trench whistle.
As a book-lover, I'd love to find a place to put this poster.
Books about World War 1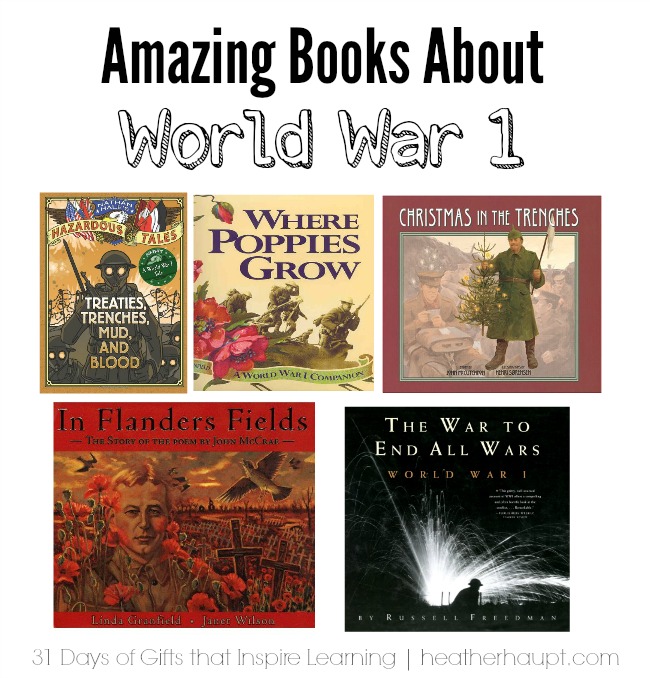 Researching these books makes me so excited to study this era with my boys someday.  If I knew that I had some extra time, I think I'd get these books now…  I'll just have to wait until maybe next Christmas and give them to the boys!
Nathan Hale's Hazardous Tales: Treaties, Trenches, Mud, and Blood (A World War I Tale)

Where Poppies Grow: A World War I Companion

In Flanders Fields: The Story of the Poem by John McCrae

Christmas in the Trenches

The War to End All Wars: World War I
World War II Related Gift Ideas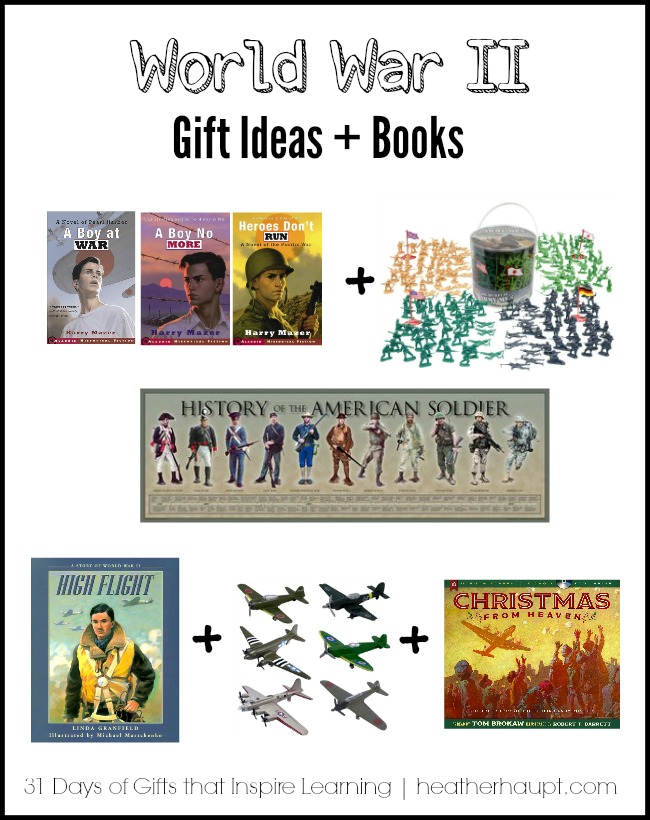 Combination 1
I bought this trilogy a couple of years ago (because I have a serious book buying habit) and will be giving it to my boys soon.  The trilogy is a coming of age series that follows a boy from the bombing of Pearl Harbor to growing up and entering the war.
A Boy at War: A Novel of Pearl Harbor

A Boy No More

Heroes Don't Run: A Novel of the Pacific W
ar
I plan to pair these books with this cool Army Men Action Figures. It has figures from the American, British, German and Japanese armies and would be great when used with some salt-dough maps and configuring some key battles.
If you have boys that love to dramatize than you'll love this 
Kids Army Camouflage Assault Vest.  We gave it as a gift to my youngest the year we were learning about the military.  That combined with this CAMO CANTEEN
 and this Army Helmet have been played with over and over again.
Combination 2
For those that love old airplanes, this combination would be perfect.  High Flight: A Story of World War II
 is a gripping story of bravery.  It is about a 19 year old canadian fighter pilot.  Because just one book isn't enough, I'd pair it with this picture book Christmas from Heaven: The True Story of the Berlin Candy Bomber
 and a set of metal die-cast WWII Planes.
I would also check and see if there are any airshows in your area.  When we studied the military a few years ago, the timing worked out perfectly with an airshow at the Air Force base in the area.  It was a highlight for our whole family.  Adding an announcement of a trip to an airshow would make the gift even sweeter!
And finally, if you have a child who loves learning about war and such, this History of the American Soldier poster would make a sweet addition to their room.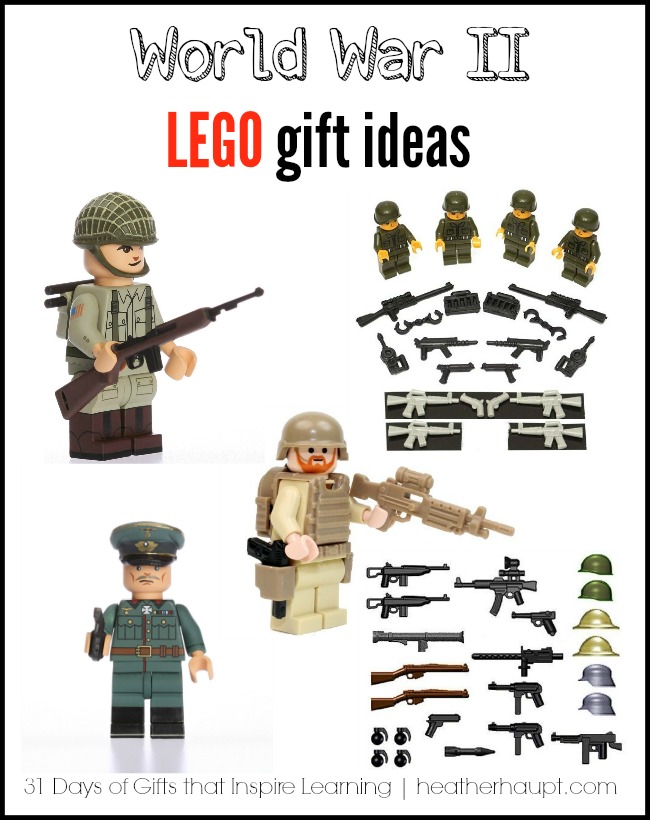 And then finally, for all of my fellow moms of lego lovers…  My boys are forever using their legos to build all kinds of things.  If you'll be learning about World War 2, giving them one or two of these mini-fig or weapon/hat packs could be a huge hit!
Amazing set of Lego -Compatible MiniFigs
World War II Paratrouper MiniFig
Desert Commander Military Gunner MiniFig
German Officer MiniFig
World War II Weapon and Hat pack to convert any of your Lego Mini-Figs.
________________________________
Whew.  Well, that wraps up my history related learning guides.  Next, I'll be sharing about science related gift guides!
Want to follow along so you don't miss a single post in this 31 days of gift ideas that will inspire learning?  Enter your email address below. {Your privacy matters.  Emails are never sold and only used to receive blog post updates.}